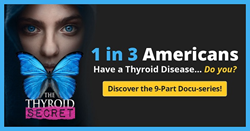 Dr. Isabella Wentz Launches Much Awaited Docu-Series The Thyroid Secret
(PRWEB) March 29, 2017
Renowned thyroid pharmacist Dr. Isabella Wentz has recently launched a groundbreaking docu-series titled The Thyroid Secret that aims to dispel the myths surrounding thyroid disease. Divided into nine parts, the Thyroid Secret has been designed with the intention of explaining and exploring the various realities of the condition and ways to deal with successfully beyond medications.
Dr. Isabella Wentz, Pharm.D., FASCP graduated from the Midwestern University Chicago College of Pharmacy at a young age of 23 and has worked extensively as a safety pharmacist. She is also known for her work as a clinical consulting pharmacist and holds Certification in Medication Therapy Management, as well as Advanced Diabetes Care. Her life changed when she was diagnosed with auto-immune thyroid disease and Hashimoto's. Determined to understand the underlying lifestyle factors that contributed to the condition, she started her work, which has eventually lead to the Thyroid Secret.
At a recent talk with her patients, she discussed the overall importance of understanding thyroid functions and the causes of the condition. She talked about her research with Hashimoto's and Hyperthyroidism and how she was committed to writing "Hashimoto's Thyroiditis: Lifestyle Interventions for Finding and Treating the Root Cause." As more positive Thyroid Secret reviews come in, she adds that she always expected such kind of response, and it is not a surprise.
"The Thyroid Secret is meant to influence others and help people dealing with the condition. This project has remained by reason to stay positive in life because I knew there was a need to dismiss the myths and conventional theories around thyroid disorders. Millions of people around the world have no idea of how to deal with their condition, and this series will impact their lives in some very practical ways," she added.
The Thyroid Secret is a comprehensive documentary series, which has direct interviews with over 100 leading global thyroid experts. It also features inspiring interview stories from patients, who have struggled with the condition and have overcome the results and related concerns.
About Thyroid Secret
Dr. Isabella Wentz, Pharm.D., FASCP, a chief thyroid pharmacist has developed a 9-part docu-series, known as The Thyroid Secret, which talks about many aspects of thyroid function and how lifestyle and smaller changes can help in handling the condition. The Thyroid Secret reviews have been overwhelmingly positive so far, and thousands of people have claimed great things about following the new path of healing and recovery.
Media Contact Details-
Thyroid Pharmacist
150 Murray Street, Suite 61
Niwot, CO 80544
Phone - (844) 379-3689
Email - info(at)thyroidpharmacist(dot)com