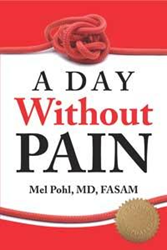 Common Threads, Pain and Addiction
Malibu California (PRWEB) April 30, 2014
The Avalon Malibu Treatment Center is proud to announce that May 22nd, Dr. Mel Pohl MD FASAM will be on hand to discuss his book "A Day Without Pain". Treatment implications will be described as part of "Pain Recovery."
Dr. Mel Pohl, MD, FASAM is a Board Certified Family Practitioner. "A Day Without Pain" is the thoughtful discussion regarding chronic pain and whether it is imagined or real. Dr. Pohl was a major force in developing Las Vegas Recovery's Chronic Pain rehabilitation program and he shares the understanding that people have a tendency to believe that pain based on emotions is less "valid" than physical pain. The discussion will explore the fact that all pain is real, and proven, based on neurophysiologic phenomena in specific parts of the brain.
Avalon Malibu offers a new paradigm in treatment philosophy, by integrating recovery and healing. The 'Avalon Malibu Sanctuary Model' provides adults the opportunity for reflection through introspection, education and mindfulness practice. Avalon Malibu integrates mind, body and spirit into a realistic plan for long-term recovery from problems associated with substance use disorders, psychiatric disorders, and the co-occurring psychological problems that often accompany them. Avalon Malibu is a place where respect, safety, compassion, and hospitality are extended to all who seek health and healing.
With a focus on integration of mind, body and spirit philosophy, the power to manage pain holistically is paramount. Dr. Mel Pohl, MD, FASAM is the Vice President of Medical Affairs as well as the Medical Director of Las Vegas Recovery. The facility is a private, freestanding chemical dependency and pain treatment center, which is licensed by the State of Nevada and accredited by the Joint Commission (JCAHO). The facility provides a complete continuum of care and has long been considered the best in the country.
With more than twenty-nine years of experience treating addiction and addiction-related conditions, Dr. Mel Pohl is a desirable public speaker who is nationally known and coauthor of "The Caregivers Journey: When You Love Someone with AIDS" and "Staying Sane: When You Care for Someone with Chronic Illness."
The Avalon Malibu Grand House Event May 22nd will take place from 6:30-9 pm. Hors d'oeuvres will be served. RSVP to Beata Lundeen at 310.457. 9111 ext. 102 or email beata(at)avalonmalibu(dot)com.
Learn more by visiting http://avalonmalibu.com