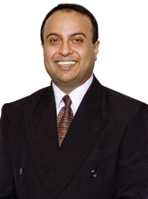 Enfield, Connecticut (PRWEB) July 30, 2014
Dr. Rashmi Patel has announced the expansion of several service offerings that are available immediately through his practice, Enfield Family Dental. The expanded service offerings address several of the more common cosmetic issues that patients inquire about, including the correction of "gummy" smiles, the whitening of discolored teeth and the replacement of conspicuous metal fillings. The service offerings allow Dr. Patel and his staff to assist their patients in restoring their smiles in a manner that is very quick, effective and, in most cases, minimally invasive.
While Enfield Family Dental provides a number of services that address the full gamut of dental issues that patients typically seek to have corrected, it is becoming increasingly common that patients seek out solutions to their cosmetic dentistry issues. For individuals who have what is commonly referred to as a "gummy" smile, Dr. Patel is able to offer gum recontouring in order to address the issue. This procedure restores the natural gumline by correcting any uneven or receding gums that the patient may be experiencing.
Dr. Patel is also able to provide a solution to patients who have grown weary of flashing a smile that is rife with metal fillings. Even though these patients took care of their teeth by ensuring that any cavities were filled, the fillings are quite conspicuous and can be embarrassing to some. Through the use of cosmetic fillings, the dentists at Enfield Family Dental are able to replace the metal fillings with fillings that are tooth-colored, making the existing fillings completely inconspicuous.
The most popular request as of late relates to the availability of a whitening process. Dr. Patel offers teeth whitening services to those who are dealing with any form of discoloration. The procedure is very simple and lasts for an extended period of time. Even those who commonly engage in behaviors that cause tooth discoloration or staining can benefit long-term from the whitening process offered by Dr. Patel.
Any parties who are interested in exploring the cosmetic dentistry services available through Enfield Family Dental and Dr. Patel should contact the office at their earliest convenience to schedule an appointment for consultation.