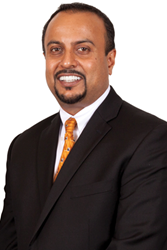 Enfield, CT (PRWEB) September 29, 2014
Dr. Rashmi Patel has announced that his practice, Enfield Family Dental, has been featured in the latest edition of "Dear Doctor," a dentistry and oral health magazine. The feature discusses the nature of Dr. Patel's practice, the professionals providing care at the practice and the comprehensive service offerings provided by Dr. Patel and his staff.
Among the many services offered by Enfield Family Dental are preventative dentistry, cosmetic dentistry, restorative dentistry and general dentistry, along with specific services that address a bevy of common dental issues. It is one of the goals of the practice to help their patients develop an appreciation for the many benefits of lifelong dental care and health.
Offering comprehensive services, the practice is able to take care of a broad range of patient needs. This is valuable to patients, as it is not necessary to seek out specialists for each dental issue they encounter. In treating these varying dental issues, Dr. Patel and his staff take great care to ensure total patient comfort throughout every step of the process.
The feature in "Dear Doctor" is written by dental and healthcare professionals for the purpose of educating the public on the importance of proper dental care. Dr. Patel is a major proponent of dental health education, as he and his practice have participated in a number of health initiatives seeking to raise awareness of the benefits of lifelong dental care. Dr. Patel recently participated in the "Smiles for Kids" campaign, offering children, seniors and low-income families free dental consultations while also providing complimentary cleanings to 300 children from local group homes.
The "Dear Doctor" feature goes into great detail regarding the many efforts of the Enfield Family Dental practice and the level of care that it consistently provides to its patients. There is information about specific practice areas and the services that are provided within those areas of practice. The feature also details the many ways the practice strives to ensure patient comfort throughout each and every visit, resulting in a practice that is highly regarded for its outstanding level of customer care.