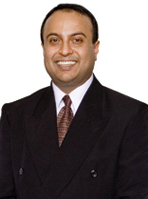 Enfield, Connecticut (PRWEB) August 05, 2014
Dr. Rashmi Patel and Enfield Family Dental are quite often at the forefront of new advances in dental technology, and with the announcement that the practice will now offer sealants, Dr. Patel and his staff have ensured that they will continue to reside on the cutting-edge of dental technology. Sealants are used to protect teeth that happen to be prone to decay, such as those that are located in the back of the mouth. The sealant is essentially a protective layer that prevents plaque from wreaking havoc by causing cavities in these hard to reach places.
According to Dr. Patel, the molars and pre-molars are particularly at risk of developing cavities, mainly due to the many fissures and pits they possess that make them difficult to clean. Obviously, teeth that are not cleaned properly are prone to developing cavities and other serious conditions. Through the use of these new sealants, Dr. Patel is able to take preventative measures against these issues developing, which represents a significant benefit to patients who are looking to take a proactive approach when it comes to the avoidance of cavities and other dental issues.
The sealants that ultimately protect the teeth from cavities are made of a composite plastic that is applied to the teeth with the goal of filling in the very pits and fissures that are so often the cause of dental issues. The procedure itself is very simple, and the doctors at Enfield Family Dental are experienced in applying sealants to patients. After a thorough examination and cleaning, Dr. Patel will simply apply the sealant to the patient's teeth. The sealant is immediately hardened through the use of a special light. Adjustments can be made after the sealant is hardened to ensure that the patient is comfortable with their bite and the thickness of the sealant.
Patients who are prone to cavities may wish to explore their options as it relates to this new service offered by Dr. Patel and Enfield Family Dental. Patients who want to learn more should contact the office at their earliest convenience to schedule an appointment for consultation.