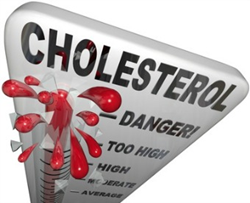 Washington, DC (PRWEB) September 10, 2014
Recent statistics from the Center for Disease Control and Prevention show that 17% of Americans--one out of every six adults--have high levels of cholesterol. While this is a serious condition, affecting millions of people, too many individuals don't take action and try to lower their cholesterol levels because there are few outward signs and symptoms that easily identify the problem. Sadly, for many people, it's only after they suffer a heart attack or stroke that they find out that they have high cholesterol. New York Times and USA Today Best Selling author, Sanjay Jain, M.D. MBA has recently published a video on how to identify signs of high cholesterol and reduce cholesterol levels without the use of expensive medications.
WebMD says that some people may notice bumps, from a build up of fat and cholesterol, on their hands, skin or feet. Other than that there are no outward ways to identify high cholesterol. People with certain risk factors, including eating a poor diet, being overweight, being inactive, smoking, taking certain medications, age, having diabetes or a family history of cholesterol, should keep a close eye on their cholesterol levels.
Starting at age 20, Mayo Clinic recommends that adults have their cholesterol checked every five years unless the doctor says otherwise. People who are at a higher risk for elevated cholesterol levels should take measures to lower their LDL ("good") cholesterol and raise their HDL ("good") cholesterol.
While many medical professionals advocate the use of prescription medications to lower cholesterol, there are natural options for individuals who prefer to take a more holistic approach to their health. Adjusting one's diet and lifestyle can go a long way in reducing cholesterol levels or preventing them from getting too high.
Some foods which aid in lowering cholesterol include:

Avocado and avocado oil- Enjoy chopped avocado pieces on a salad, or stir fry vegetables in avocado oil.
Dark chocolate- Sprinkle dark cocoa powder on coffee for a guilt-free indulgence.
Wine- A small glass after dinner assists in lowering LDL levels and provides antioxidants.
Nuts- Have a handful as a snack, or sprinkle on oatmeal and salads.
Salmon, Tuna, Halibut- Broil or bake un-breaded fish filets for a wholesome, filling meal with plenty of hearty-healthy fats.
Apples- Grandma was right; an apple a day can keep the doctor away. Apples, and pears, have pectin which is a type of fiber that assists in lowering cholesterol.
For work lunches, try swapping out low-quality fast food meals for homemade salads and fresh fruit. Walk, and take the stairs, whenever possible to be more active. Buy a fitness DVD to do in the early mornings or evenings to help lose weight. None of these activities require much time or money, but they will all help people live longer, healthier lives and spend less on health care.
To make long term lifestyle changes, it's important to make the changes gradually. Start with one change a week, adding a new one while maintaining previous ones. It's only natural to make mistakes and slip-up from time to time; recognize the mistake and jump back on the path to better health. Over time, these changes become second nature.
For more information on this and other topics related to health and wellness please visit Dr. Jain's website at http://www.sanjayjainmd.com/.
About Dr. Sanjay Jain:
Sanjay Jain, M.D. MBA is a New York Times and USA Today Best Selling author, accomplished medical doctor, health expert, life coach and inspirational keynote speaker who has dedicated his life to helping people find their purpose by achieving a meaningful life that they deeply cherish.
Sanjay Jain is U.S. trained and a board certified physician with over 15 years of clinical experience. He holds certifications in Diagnostic Radiology, Integrative Medicine, and Healthcare Quality and Management. He is a graduate from the accelerated BS/MD program at The Northeast Ohio Medical University. He has diversified experience in the private practice, academic, and integrated multispecialty settings.
He was a former assistant professor at The Ohio State University where he also obtained his MBA at the Fisher School of Business. The combination of which has given him a unique voice and understanding of the many issues we face today in a real and practical sense.
Follow Sanjay on Twitter at @sanjayjainmd. His new book, Optimal Living 360: Smart Decision Making for a Balanced Life (Greenleaf) is available in stores now!