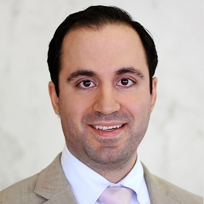 "More comprehensive research is needed, but the initial results show that a 'revision' lower blepharoplasty delivers impressive results," said Dr. Taban
Beverly Hills, CA (PRWEB) June 13, 2017
In cosmetic dermatology, eyelid fillers made of a cross-linked hyaluronic acid gel are widely used because they are effective at improving under eye bags, among other skin concerns, yet many patients have unsatisfactory results, such as a "residual fullness" that can include fat, scar tissue, or undissolved filler substance. However, this "residual fullness" could actually just be a puffy lower eyelid, which can be corrected with a lower blepharoplasty. Curious to learn what kind of impact a previous dermal filler treatment would have on this type of surgery, oculoplastic surgeon Dr. Mehryar (Ray) Taban conducted a three-year study that ended in December 2015. The initial findings, recently presented by Dr. Taban at the Vegas Cosmetic Conference in Las Vegas as well as published in the American Journal of Cosmetic Surgery, are important for other oculoplastic surgeons to consider.
"Eyelid fillers with hydrating hyaluronic acid gel are effective for improving under eye bags or orbital fat prolapse," explained Dr. Taban, "but there are also limitations, including the relatively short duration of the effects and subsequent, though slight, anatomical changes. Plus, the previous injector may have injected too much gel or injected the filler in the wrong location; or perhaps the wrong diagnosis was made, which means the patient may have been better served by undergoing a lower eyelid surgery in the first place. Although unsatisfactory filler results can be removed with hyaluronidase injections, a patient is still left with a cosmetic under eye concern that still needs correcting."
In the study, Dr. Taban performed a lower blepharoplasty on patients who have had unsatisfactory results from previous hyaluronic acid dermal filler injections. If a patient had any eyelid filler residue remaining, it was removed with injections of hyaluronidase. In spite of the fact that the study was small, Dr. Taban was intrigued by the results.
"We found that, although some of the soft tissue around the lower eye actually became softer—more spongy, if you will—the results were aesthetically pleasing," Dr. Taban said. "The puffiness in the lower eyelid and the appearance of the under eye bags were improved and there was a very high rate of satisfaction among the patients. What we also found is that due to the anatomical changes from a filler injection, this surgery might be more properly termed a 'revision' lower blepharoplasty."
For patients who have previously been treated with hyaluronic acid eyelid fillers, the results of Dr. Taban's study are promising. Though more research is necessary, early indications are that a "revision" lower blepharoplasty (with fat repositioning) is safe and effective for addressing issues with "residual fullness" that may or may not be a side effect of the previous eyelid filler treatment. To learn more about this study, or to learn more about cosmetic eye surgery in general, visit http://TabanMD.com/Aesthetic-Cosmetic/
"Though the results are impressive, the study had limitations, such as the small number of patients and the fact that they were not chosen randomly," added Dr. Taban. "Furthermore, each patient received their previous eyelid filler injections from a different injector, meaning there's no guarantee of consistency in injector training, skills, or technique. More comprehensive research is needed, but the initial results show that a 'revision' lower blepharoplasty delivers impressive results with no post-op complications or repeat procedures."
Meet Dr. Taban: http://TabanMD.com/About-Oculoplastic-Surgeon/
Mehryar (Ray) Taban, MD is a Santa Barbara and Beverly Hills, Los Angeles oculoplastic surgeon (cosmetic and reconstructive eyelid plastic surgery) who is committed to his patients' progress and results. He offers an array of reconstructive and cosmetic procedures, with a focus on the face in general and the eyes in particular. He has had extensive training and is triple board-certified by the American Society of Oculofacial Plastic Surgery (ASOPRS), American Board of Cosmetic Surgery (ABCS) and American Board of Ophthalmology (ABO). Due to Dr. Mehryar (Ray) Taban's expertise in eye plastic surgery, he is often called upon to help other physicians with their complex cases, and frequently publishes articles and lectures to physicians around the country.
For more information on Dr. Taban and his services, please visit http://www.TabanMD.com.
Dr. Mehryar (Ray) Taban, MD
9735 Wilshire Boulevard #319
Beverly Hills, CA 90212
(877) 958-9277
DrTabanInquiry (at) gmail (dot) com