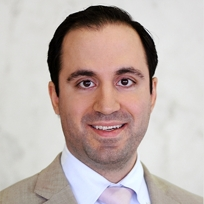 "I often use the orbital decompression procedure to reduce the appearance and complications of bulging eyes for a variety of reasons," Dr. Taban said
Beverly Hills, CA (PRWEB) April 19, 2017
Bulging eyes, known medically as proptosis or exophthalmos, is an abnormal protruding of the eyes from the eye socket. It can develop in one eye or in both and could signify that there is a problem with the thyroid. In fact, according to a large study conducted by the Wilmer Eye Institute at the Johns Hopkins School of Medicine, the most common cause of bulging eyes in adults is Graves' disease, a thyroid-related autoimmune inflammatory disorder.
"Graves' disease causes the eye to swell and, since the eye socket cannot expand, the swollen eyeball protrudes from the socket," Dr. Taban said. "For those who have never suffered from bulging eyes, it doesn't seem much more than an aesthetic inconvenience, but those who have suffered from it will say that it's more than just unsightly. It causes redness and irritation, eye dryness, tearing, and double vision. Simply put, it's uncomfortable."
For most patients, the goal of treating bulging eyes is simple: reduce the bulge to make the eyes look more natural, which will bring more facial balance and eye symmetry. In some cases, where the eye is also unable to fully close, another goal is to have the normal or improved ability to shut the eye completely. One particularly effective procedure used to reach these goals is cosmetic orbital decompression surgery.
"I often use the orbital decompression procedure to reduce the appearance and complications of bulging eyes for a variety of reasons," Dr. Taban said. "It is done using minimally invasive techniques on an outpatient basis, and it can take under an hour depending on the anatomy of the eye and the extent of the decompression that the eye requires. And although incisions are made into the eyelid, the latest techniques reduce the size of the incisions, making recovery faster and easier."
Symptoms of a bulging eye include a feeling of pressure on the eye, eyelid swelling and retraction, and double vision. Patients are advised not to ignore such changes in their eye or eyes, as bulging eyes that are left untreated can lead to conjunctivitis or, in severe cases, loss of vision. To learn more about bulging eyes and orbital decompression surgery, read Dr. Taban's latest manuscript "Expanding Role of Orbital Decompression in Aesthetic Surgery."
"The procedure results in post-op swelling and bruising for about 10 days, but is otherwise fairly tolerable, as is the healing process," said Dr. Taban. "Patients are able to keep their vision throughout recovery, and the non-absorbable sutures are removed in about a week while the absorbable ones dissipate on their own. In 7-10 days, patients are free to resume normal activity with better facial balance and eye symmetry as well as an improved appearance and self-esteem."
Meet Dr. Taban: http://TabanMD.com/About-Oculoplastic-Surgeon/
Mehryar (Ray) Taban, MD, is a Santa Barbara and Beverly Hills, Los Angeles oculoplastic surgeon (cosmetic and reconstructive eyelid plastic surgery) who is committed to his patients' progress and results. He offers an array of reconstructive and cosmetic procedures, with a focus on the face in general and the eyes in particular. He has had extensive training and is triple board-certified by the American Society of Oculofacial Plastic Surgery (ASOPRS), American Board of Cosmetic Surgery (ABCS) and American Board of Ophthalmology (ABO). Due to Dr. Mehryar (Ray) Taban's expertise in eye plastic surgery, he is often called upon to help other physicians with their complex cases, and frequently publishes articles and lectures to physicians around the country.
For more information on Dr. Taban and his services, please visit http://www.TabanMD.com.
Dr. Mehryar (Ray) Taban, MD
9735 Wilshire Boulevard #319
Beverly Hills, CA 90212
(805) 669-9101
DrTabanInquiry (at) gmail (dot) com