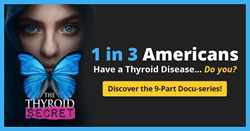 Leading Thyroid expert discusses docu-series "The Thyroid Secret"
(PRWEB) March 29, 2017
Dr. Isabella Wentz, PharmD, FASCP, one of the leading thyroid experts of the world, is known for launching a 9-part video series titled The Thyroid Secret. Dr. Wentz talked about journey and research recently on a blog and discussed some major aspects of the series, which emphasizes the fact that medication IS NOT the only solution to deal with thyroid disease.
Dr. Wentz completed her graduation from the Midwestern University Chicago College of Pharmacy and holds additional certification in Advanced Diabetes Care. At just 34, she is a foremost name in the world of thyroid cure and has extensive experience of working as a clinical consulting pharmacist, as well as, a medication safety pharmacist. Her recent post was about discussing the Thyroid Secret, which will bust some of the common myths surrounding the condition and help patients in dealing with the side-effects, without relying on medicines alone.
Expressing her opinions, Dr. Wentz discussed the environmental conditions and possible lifestyle factors that have caused a sudden increase in thyroid disease. She added that it is possible to recover from hyperthyroidism easily by incorporating a few lifestyle changes. She also mentioned about the impact of common issues on thyroid function, such as exposure to toxins, medications, and preservatives.
"When I was detected with Hashimoto's and autoimmune thyroid disease, I was told that medication is my only solution. I was determined to find the underlying causes. With years of research, I have finally launched the Thyroid Secret that will alter millions of lives around the world with a wholesome, organic, natural approach to the condition," she mentioned in one of the paragraphs of the post. She added that the positive Thyroid Secret reviews were anticipated, but the overwhelming response has exceeded expectations.
About The Thyroid Secret
The Thyroid Secret is divided into nine parts and has been hosted by Dr. Isabella Wentz, PharmD, FASCP. Besides recommending various kinds of lifestyle changes and natural solutions, the docu-series also offers inputs from over 100 leading thyroid experts of the world. It also features more than 60 successful and inspiring stories from people, who have overcome the common issues related to the condition, such as weight gain, mood disorders, fatigue and other side effects. Thyroid Secret reviews have been extremely positive so far, with thousands of patients showing support for the series. Officially, The Thyroid Secret is available at thethyroidsecret.com, while it has also been covered many foremost medical blogs and portals.
Media Contact Details-
Thyroid Pharmacist
150 Murray Street, Suite 61
Niwot, CO 80544
Phone - (844) 379-3689
Email - info(at)thyroidpharmacist(dot)com