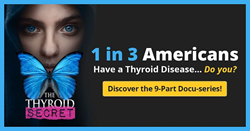 Thyroid Pharmacist Discusses their Revolutionary Docu-Series "Thyroid Secret"
(PRWEB) March 29, 2017
The Thyroid Secret is a specialized 9-part documentary series designed by leading thyroid pharmacist Dr. Isabella Wentz, Pharm.D., FASCP. The program was recently launched on March 1, and Dr. Wentz discussed varied benefits and aspects of it, besides answering common questions regarding thyroid function.
Dr. Izabella Wentz is a licensed pharmacist and a foremost thyroid specialist. After being diagnosed with Hashimoto's thyroiditis in 2009, she went to do extensive research on thyroid disorders and the lifestyle and environmental factors that lead to the condition. With "The Thyroid Secret", Dr. Wentz is committed to raising awareness about common thyroid conditions, including thyroid cancer, hyperthyroidism, hypothyroidism, and Hashimoto's. After launching the full program earlier this month, she talked about the program in detail, offering tips and suggestions on how people can live better without worrying about thyroid disorders.
Talking about the benefits, she added that the Thyroid Secret is an easy-to-follow program, which will offer all sorts of information on thyroid disorders and functional issues. She added that medication isn't the ONLY solution to these conditions.
"I want patients to know that lifestyle changes and organic, natural solutions can change the way you deal with thyroid side effects, such as weight gain, fatigue and mood disorders. In The Thyroid secret, you will find interviews with more than 100 leading thyroid experts, who will explain many aspects that most patients don't know of. I have worked closely with functional medicine practitioners, naturopaths, nutritionists and pharmacists to understand the core issues and possible solutions," she went on to add. She also thanked reviewers and patients in her recent video who have been sending positive Thyroid Secret reviews from different continents and countries.
The first part of The Thyroid Secret was launched on March 1, and the entire series is now available at thethyroidsecret.com. Patients can learn more about Dr. Isabella Wentz on her portal - thyroidpharmacist.com.
About Thyroid Secret
The Thyroid Secret is a leading program that offers unique ways of managing thyroid disorders and conditions. Designed and developed by thyroid pharmacist Dr. Isabella Wentz, PharmD, FASCP, the program offers stories from over 60 patients besides other things, so that others can get inspired to lead a life that's not dependent on thyroid medications. The Thyroid Secret reviews have been extremely positive so far, with many critics giving a thumbs-up to the overall research and program inclusions.
Media Contact Details-
Thyroid Pharmacist
150 Murray Street, Suite 61
Niwot, CO 80544
Phone - (844) 379-3689
Email - info(at)thyroidpharmacist.com