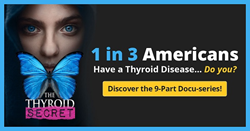 Leading Thyroid Pharmacist Announces The Launch Of The Thyroid Secret
(PRWEB) March 29, 2017
Thyroid Pharmacist, Dr. Isabella Wentz, Pharm.D., FASCP, launched the 9-part documentary series titled The Thyroid Secret. The program is aimed at dispelling the different myths and beliefs related to thyroid disease and offer natural and easy solutions that most patients don't know about. Dr. Wentz discussed the launch and the crucial aspects of the program on her website.
Dr. Isabella Wentz is a licensed pharmacist and has been working in the field for more than a decade. After being diagnosed with Hashimoto's thyroiditis in 2009, she was told that medications and synthetic thyroid hormones were her only options. Determined to find the underlying lifestyle and environmental causes, she started her research, which finally led to the launch of The Thyroid Secret. In one of her recent posts, she assured patients that they don't need to deal with thyroid side effects and issues with medicine alone.
"The sudden increase in thyroid disorders is an indicator of underlying problems and causes, which I have addressed in the 'The Thyroid Secret.' The 9-part documentary series has all my findings, which I have found in the last few years. I don't want to stuff patients with complicated information and studies, which is why the program has been designed in the form of a documentary. No matter whether you are a patient or know someone dealing with thyroid issues, the contents of 'The Thyroid Secret' will be relevant to you," she added.
The Thyroid Secret features direct one-to-one interviews with more than 100 leading thyroid experts, naturopaths, nutritionists, and medical professionals. There are also 65 success stories from patients around the world, who have overcome the condition with natural solutions and simple lifestyle changes. The complete series was launched earlier this month over a period of nine days and can be accessed at thethyroidsecret.com.
About the Thyroid Secret
The Thyroid Secret is a docu-series, split into nine parts, that reveals the true thyroid solutions, which will help patients in reducing their dependency on medications and drugs. Designed by Dr. Isabella Wentz, PharmD, FASCP, the program offers information in a simplified manner, so that more people can benefit from the contents. Dr. Wentz, who was herself diagnosed with Hashimoto's thyroiditis early in life, presents the facts and related details in a scientific way, with a focus on reducing common symptoms, such as weight gain, fatigue, depression and mood disorders. Patients can learn more about Isabella Wentz at thyroidpharmacist.com.
Media Contact Details-
Thyroid Pharmacist
150 Murray Street, Suite 61
Niwot, CO 80544
Phone - (844) 379-3689
Email - info(at)thyroidpharmacist(dot)com