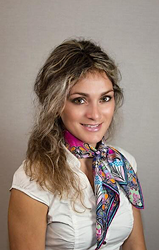 LONDON (PRWEB) October 22, 2019
"Receding gums, or gum recession can affect people at any age," says Dr. Evdokia Chasioti. "Traditionally, the treatment for gum recession has been conventional gum grafting surgery. The advantage of conventional gum grafting is that it is considered to be the best way to predictably stop gum recession. The downside is that many patients perceive conventional grafting to be a painful and invasive procedure and do not accept needed treatment."
"Because the Chao Pinhole® Surgical Technique does not require scalpels or sutures, patients benefit from a more comfortable treatment with minimal pain, swelling, or recovery time," says Dr. Chasioti.
To perform the Pinhole® procedure Dr. Chasioti makes one or more small pinholes, or entry points in the gums. She then uses specially designed dental instruments which are manipulated through the entry points to free the gums and guide the tissue down to improve root coverage of the affected teeth. "Small strips of collagen similar to the material used for collagen injections are inserted through the pinholes to stabilize the gums," says Dr. Chasioti. "Patients can return to normal activities almost immediately with virtually no pain, in most cases. The Pinhole® procedure typically requires a single in-office visit and most patients will see a noticeable improvement immediately following the procedure."
"Many patients are motivated to have their receding gums corrected for aesthetic reasons," says Dr. Chasioti. "Patients may also experience sensitivity to cold temperatures due to exposed root surfaces and decay at the receded areas. Treatment of gum recession is also important because as the gums recede so does the bone that supports the teeth, increasing the risk of tooth loss."
Dr. Chasioti is committed to practicing the highest level of dentistry based on her diverse expertise in numerous periodontal and implant procedures. Additionally, she is an international member of the American Academy of Periodontology, a member of the British Society of Periodontology and the Association of Dental Implantology, UK. She is participating in several prestigious world conferences where she is presenting various periodontal and implant cases.
Dr. Chasioti believes in the evidence-based dentistry and considers the team approach fundamental to recreating stunning smiles, with state-of-the-art procedures.
Dr. Chasioti's Facebook: facebook.com/evdokia.chasioti
To arrange an appointment go to pinholelondon.com
Appointments with Dr. Chasioti are available at these locations:

Smile Cliniq - Finchley
Smile Cliniq - St Johns Wood
http://www.thekensingtondentist.com

http://www.gardensdentalcentre.com