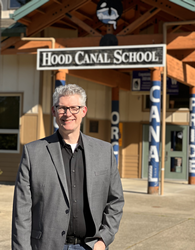 SKOKOMISH, Wash. (PRWEB) May 19, 2023
The Hood Canal Board of Education voted unanimously to hire Dr. Lance Gibbon to serve as the new superintendent for the Hood Canal School District. His selection followed a thorough process facilitated by the professional search firm Hazard, Young, Attea & Associates (HYA).
After interviewing in multiple forums, visiting classrooms, and chatting with students and staff, the reviews for Dr. Gibbon were overwhelmingly positive. According to School Board President Edie Reclusado, "The consensus regarding his positive attributes were: a thoughtful approach to issues, a commitment to collaboration and communication, and a relationship-oriented approach to leadership."
Dr. Gibbon's first principal job was in a small PK-4 primary school in Anacortes. He describes this as one of the best jobs he's had. "I knew each child and family by name and experienced a deep sense of connection," Dr. Lance Gibbon reflected. "I've worked in bigger schools and districts with more programs and staff but missed the family environment. Coming back to a place where this is possible is one of the biggest things that attracted me to Hood Canal."
The Hood Canal School District has experienced frequent leadership changes which Dr. Gibbon recognized can be difficult for everyone. "It's challenging to get traction when you're always adjusting to someone new," he said. "I'll be working hard to help the school community heal and earn their trust."
Dr. Gibbon is excited about the rich Native culture in Hood Canal and continuing to grow the relationship with the Tribe. "I've enjoyed partnering with Indian Lands districts and local tribes in the past," Dr. Gibbon shared. "I was very impressed by the range of services offered by the Skokomish Indian Tribe. I look forward to working with the Tribal Council on ways we can enrich Native education, increase cultural connections, and better serve our kids together."
Dr. Gibbon also shared that he looks forward to working with the Hood Canal School Board. "They have unique backgrounds and perspectives, which is so important," he noted. "And they also seem to work really well as a team because of their incredible shared passion and dedication to the students, staff, and families of Hood Canal. Their optimism about the future of the district was inspiring to me. I think we'll make a great team!"
Pending contract negotiations, Dr. Gibbon starts officially on July 1, but he hopes to spend several days in the district prior to that time to meet and connect with students, staff, families, and Tribal and community leaders.
About Lance Gibbon
Dr. Lance Gibbon is a 4th generation educator in Washington State and loves the Pacific Northwest. During his distinguished 30-year career in four districts, he served as a superintendent, assistant superintendent, principal, and music teacher. His efforts have contributed to improved student achievement, expanded opportunities, greater equity, and state and national awards. Dr. Gibbon is deeply committed and community-oriented, twice recognized as Community Leader of the Year.