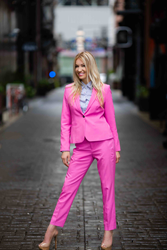 We have new photos, a modern user-friendly design and have pulled together all of my online resources for everyone to access with ease
BLOOMFIELD HILLS, Mich. (PRWEB) February 12, 2019
Dr. Sarah's new website (http://www.drsarahbrotsky.com) provides visitors with the resources to live consciously. She shares a wealth of tools to help you clear your mind, generate and create change by choice from a space of infinite possibilities. Dr. Sarah's approach empowers you to tap into your own conscious way of being.
"I am quite excited about the launch of my new website," said Dr. Sarah Brotsky in a recent interview. "We have new photos, a modern user-friendly design and have pulled together all of my online resources for everyone to access with ease," she said. Dr. Sarah sees infinite possibilities to promote living consciously on the new website.
The Blog Talk Radio Show - "Let's Talk About It!"
Dr. Sarah's 30-minute weekly radio show encourages and empowers listeners to live in a conscious way. Each episode is unique unto itself, covering a range of different topics and ideas that are fueled by the featured weekly guest. Listeners have the opportunity to submit questions for Dr. Sarah as well as suggested topics. Learn more about Let's Talk About It radio show.
Dr. Sarah's Instagram Success
Dr. Sarah's presence on Instagram has grown to be widespread and influential. Recent posts have gained nearly 13,000 likes and demonstrate her ability to promote the topic of living consciously on the popular social network platform. Follow Dr. Sarah on Instagram.
The Video Library
Explore Dr. Sarah's video library for the inspiration, advice, and motivation on how to live consciousness now. Learn more about Dr. Sarah video library.
The Book - What then, is a conscious relationship?
A conscious relationship is one that functions from a space of awareness, allowance, possibility, and choice. It is a space in which each Being is authentically himself or herself, without the need to cut off awareness, points of view or preferences in order to satisfy the other. A conscious relationship welcomes in a higher form of communication, one that aids in getting clear on what is present and desired. To stop struggling with your relationships and learn more about the book Relationships Done Easy.
The Blog – What Else Is Possible Now?
There is no shortage of reading material on Dr. Sarah's new website, including the blog. Published twice weekly these posts keep you in the know about living consciously. Learn about awareness as it related to choice, decision-making, point of view, limitations, possibilities, stress, relationships and more. Follow Dr. Sarah's blog.
About Dr. Sarah
Dr. Sarah is an Access Consciousness® Certified Facilitator. She uses the Access Consciousness® tools to assist people in clearing anything that does not contribute to their overall well-being. Dr. Sarah has appeared in international journals and written for numerous publications related to psychology. She is a published author of the international best-selling book, Relationships Done Easy: Creating Delicious Possibilities. Dr. Sarah has appeared on television programs including the nationally syndicated Dr. Keith Ablow Show, as an expert in eating disorders. She has also appeared on radio programs as an authority on a variety of psychological topics such as anxiety, depression, post-traumatic stress disorder, and inter-personal relationship issues.