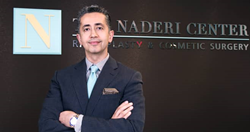 RESTON, Va. (PRWEB) December 07, 2022
Dr. Shervin Naderi, the founder of The Naderi Center for Plastic Surgery & Dermatology in Virginia and Maryland, has been chosen again as one of Washingtonian Magazine's Top Doctors for 2022. Dr. Naderi was nominated by his colleagues as a Top Doctor among thousands of local physicians in the D.C. Metropolitan area.
As a Rhinoplasty specialist, Dr. Naderi is dedicated to helping patients achieve the look they desire through reconstructive and cosmetic surgery procedures of the nose. With over 25 years of experience performing rhinoplasty and revision rhinoplasty, he is highly qualified to provide outstanding results for each patient. He holds an array of certifications and accolades, such as being double-board certified by the American Board of Facial Plastic & Reconstructive Surgery (ABFPRS) and the American Board of Otolaryngology (ABO)/American Board of Medical Specialties (ABMS). Dr. Naderi is a fellow of the prestigious American College of Surgeons (FACS), has authored surgical textbooks, and published scientific papers.
For more information on facial plastic surgery, please visit https://www.virginiafacialplasticsurgery.com/.
Dr. Naderi takes pride in utilizing cutting-edge technology to ensure his patients get the best outcomes for their surgeries. He uses Canfield digital computer imaging software to demonstrate the benefits and limitations of any surgical procedure before it is performed. This allows him to set realistic expectations for his patients and leads to greater satisfaction with their results. Dr. Naderi is also committed to safety during surgery, which he prioritizes above all else.
Rhinoplasty Specialist
Dr. Shervin Naderi is an esteemed rhinoplasty specialist who offers advanced surgical and non-surgical procedures to help reshape the nose. Rhinoplasty, or a "nose job," involves alterations to the nose's bridge, tip, or nostrils to enhance its appearance or relieve breathing issues.
Dr. Naderi offers Open Rhinoplasty, Closed scarless Rhinoplasty, as well as Preservation rhinoplasty and structural rhinoplasty. Open Rhinoplasty gives the surgeon greater visibility to manage precise maneuvers and enables access to major structures in the nose for reshaping. Alternatively, endonasal rhinoplasty is a less invasive procedure that uses incisions inside the nose and avoids external scarring. Nasal bones and cartilage can also be reshaped with precision through closed-nose surgery, a minimally invasive approach that involves manipulating the nose from the inside.
Dr. Naderi is an experienced open and closed rhinoplasty surgeon who has performed thousands of nose surgeries with excellent results. Patients have consistently been pleased with their noses following surgery, citing improved breathing, self-confidence and greater satisfaction with their appearance. He is an ultra-specialist and the only surgeon in the United States focused exclusively on the nose.
Rhinoplasty Procedure
Dr. Naderi's rhinoplasty patients benefit from his meticulous attention to detail and dedication to excellence. All aspects of rhinoplasty, such as bone structure, skin type, age, and other facial features, are considered to deliver natural-looking results.
He also has considerable experience working with revision rhinoplasty patients. Revision rhinoplasty is a secondary procedure that can help correct the outcome of a previous surgery. Revision rhinoplasty requires great precision and advanced techniques often using rib, so it's important to find an experienced revision rhinoplasty surgeon.
Dr. Naderi's rhinoplasty procedures can improve the appearance of a person's nose to better align with their face or repair damage from trauma, or other physical issues. Rhinoplasty can also help those suffering from breathing difficulties to breathe more easily.
Rhinoplasty is a highly complex procedure that requires expertise and experience. Dr. Naderi's goal is to minimize swelling, scarring, and improve healing after surgery. He takes a personalized approach - working to balance the facial features of each patient and utilizing advanced techniques to ensure the best possible results.
Injectable Treatment Options
Botox or other dermal fillers can be used for patients who prefer a non-surgical rhinoplasty procedure. Botox is an injectable facial treatment commonly used to reduce facial wrinkles caused by facial muscle activity. Dermal fillers are also injectable treatments derived from hyaluronic acid, which helps supplement facial volume and revitalize facial skin. These can be used to give the illusion of structural changes in the nose. Unlike surgical rhinoplasty, these treatments provide a minor and temporary change in appearance and require touch-up treatments.
Dr. Naderi specializes in injectable facial treatments and has created instructional videos used by doctors worldwide for training purposes. It is important to consult a board-certified facial plastic surgeon when deciding to undergo rhinoplasty (including non-surgical) to ensure the best results.
Board-Certified Facial Plastic Surgeon
Dr. Naderi also served as a Board Examiner for the American Board of Facial Plastic and Reconstructive Surgery (ABFPRS), testing other plastic surgeons and enforcing the high standards of the ABFPRS. Dr. Naderi is a highly qualified rhinoplasty specialist with considerable experience in rhinoplasty surgery and injectable nose fillers. He is dedicated to providing rhinoplasty patients with the best possible care and results.
Esteemed Memberships
In addition to being a Rhinoplasty Specialist, Dr. Naderi was also a clinical associate professor at Indiana University School of Medicine. He instructed medical residents in modern facial plastic surgery techniques. He was an active member and officer of the American Academy of Facial Plastic & Reconstructive Surgery and a guest lecturer at George Washington University School of Medicine Department of Surgery. For his dedication to providing excellence in facial plastic surgery and reconstructive surgery, Dr. Naderi has been recognized by Washingtonian Magazine once again as one of the Top Doctors for 2022. He is passionate about offering his patients the best results and looks forward to continuing to provide excellent service to the Washington, D.C. metro area as well as to his numerous patients who fly to him from all over the United States and the world.
Contact Dr. Naderi for Nose Surgery
Advanced surgical techniques, skills, and technology come together to make Dr. Naderi the top rhinoplasty specialists in the Washington, D.C., area. If you're considering nose job surgery, make an appointment for a rhinoplasty consultation to see if the procedure is right for you. During your rhinoplasty consultation, Dr. Naderi will listen to your concerns, answer your questions, and develop a plan that best suits your needs and aesthetic goals.