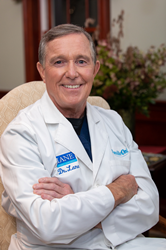 We recommend our patients have their wisdom teeth taken out while they are still young so the process is simpler and more precise.
PLYMOUTH, Mass. (PRWEB) June 24, 2020
Trusted oral surgeon, Dr. William Lane welcomes new and existing patients for safe, predictable wisdom teeth extractions in Plymouth and Sandwich, MA. He is also raising awareness of the advantage of receiving this treatment as soon as possible in order to receive a more successful surgery with faster healing times.
As an oral and maxillofacial surgeon, Dr. Lane has specialized training in carefully extracting wisdom teeth including complex cases with impacted teeth. Wisdom teeth, or third molars, often grow improperly and can severely damage the jaw, teeth, and health of patients if not removed by an experienced clinician. In many cases, this oral surgery treatment is not only less complex but easier for the patient when performed at a younger age.
"About one-third to one-half of our practice involves the extraction of wisdom teeth, and is done almost daily," says Dr. Lane. "We recommend our patients have their wisdom teeth taken out while they are still young so the process is simpler and more precise. When you are younger, your jawbone is softer and the wisdom teeth roots are not fully developed, making the extraction process much more accurate and efficient."
Wisdom teeth are extra molars that grow in the very back of the mouth during the late teenage years. These teeth often have minimal space to properly erupt within the jaw, and as a consequence, become impacted. An impacted tooth is one that has only partially come out from within the jawbone and gum tissue, and can cause pain, damage to surrounding teeth and become infected easily. Extraction of impacted wisdom teeth, or removing the wisdom teeth early before they have fully grown, leads to the most successful and painless results for patients.
Common symptoms of problem wisdom teeth include:

Sore facial muscles
Swollen face and cheeks
Difficulty or pain when biting and chewing
Crowding of existing teeth
Dr. Lane performs routine wisdom teeth extractions at his practice, Lane Oral Surgery. Using decades of experience, years of advanced training, and an expansive skill set, he is able to extract even the most complex of wisdom tooth cases with minimal discomfort to the patient.
Through the use of advanced cone beam CT scans, Dr. Lane is able to see exactly where in the jawbone wisdom teeth are located, including the position of tooth roots, nerves, and bone density. This helps him digitally prepare and plan the wisdom teeth extraction treatment. On the day of surgery, patients are often given IV sedation, a relaxing treatment that puts them in a sleep-like state and blocks sensations of discomfort. Dr. Lane is certified to administer IV sedation and monitor patients throughout the procedure. After extraction, patients will need to heal, but can expect to have a relief from tooth pain and future wisdom tooth problems.
Those interested in receiving a personalized wisdom teeth extractions consultation and find out if now is the right time for their treatment, can visit Lane Oral Surgery in either Plymouth or Sandwich, MA locations. Personalized appointments and consultations can be made by visiting http://www.laneoralsurgery.com or calling 508-746-8700.
About the Oral Surgeon
Lane Oral Surgery offers oral and maxillofacial surgical care at their offices in Plymouth, MA and Sandwich, MA. Renowned oral surgeon, Dr. William Lane graduated from Harvard University, received his doctorate from Boston University, and completed his residency training in oral and maxillofacial surgery in a combined program at Boston University and Tufts University. Dr. Lane created the revolutionary SmileOn!™ same-day full mouth dental implant solution to help patients with missing teeth regain their smile, confidence, and normal dental function. In addition to his SmileOn! solution, Dr. Lane offers bone grafting, wisdom teeth removal, and full mouth reconstruction. The entire team at Lane Oral Surgery is devoted to restoring and enhancing the natural beauty of smiles. To learn more about Dr. Lane, his practice, and the services offered at Lane Oral Surgery, visit http://www.laneoralsurgery.com or call 508-746-8700 to schedule a consultation.