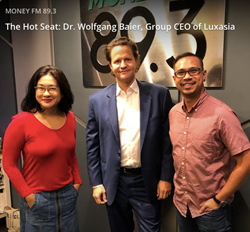 In my four decades in business, having launched a start up to achieve a multi-billion dollar result, I can count the generational leaders I've worked with on one hand. That elite group includes Dr. Wolfgang Baier. - Bill Higgs
SINGAPORE (PRWEB) September 30, 2019
Two powerful CEOs, internationally renowned Dr. Wolfgang Baier, Chief Executive Officer of Luxasia Pte Ltd. and Bill Higgs, Forbes author, speaker, billion dollar business mentor, former CEO and cofounder of Mustang, together share their insight, knowledge, and leadership on Bill's Culture Code Champions podcast. These two formidable leading change agents have excelled at running project oriented and people driven successful organizations spanning across the globe. Considered world-class leaders and titans, these two highly regarded gentlemen epitomize integrity, culture, and making a difference with decades of proven track records for developing influential leaders and transforming companies.
Dr. Wolfgang Baier has deep expertise in the logistics, ecommerce, and digital industry. Exceedingly driven and entrepreneurial, Dr. Baier is constantly innovating fresh ideas, technologies, and processes to challenge and improve the status quo. A genuine people leader, he believes in empowerment and eliminating hierarchies to create a conducive environment for experimentation and expression of diversity.
Dr. Wolfgang Baier has been the Group Chief Executive Officer of Luxasia Pte Ltd. since August 2016. He also joined the Group as shareholder to transform the leading Asian beauty distributor into a Lifestyle Omnichannel Leader adding consumer centric ecommerce and new industry capabilities to the brick-and-mortar foundation. Dr. Baier was the Group Chief Executive Officer of Singapore Post Limited from October 2011 to June 2016. He successfully led the transformation of the Singapore Post Group into non-mail business such as logistics, retail, and ecommerce accelerating its global expansion.
Prior to that, Dr. Baier worked with McKinsey & Company in Europe and Asia for over 10 years. He was a Partner at the Singapore office leading the Transportation and Logistics as well as Operations activities. During this time at McKinsey & Company, he worked on many transformations across the globe.