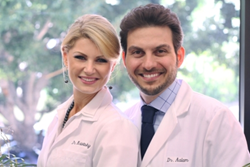 "Electric toothbrushes and tooth brushing apps can be very useful, but keeping your mouth healthy really comes down to the basics: brushing and flossing every single day," said Dr. Aalam
Beverly Hills, CA (PRWEB) July 05, 2016
As periodontal specialists, Dr. Alexandre-Amir Aalam and Dr. Alina Krivitisky, the husband and wife team behind the CENTER for Advanced Periodontal & Implant Therapy have dedicated their careers to helping patients get the cleanest, healthiest smiles possible. Unfortunately, once patients return home, their dental hygiene typically becomes lax until it is time to schedule another appointment with the periodontist for a thorough root planing and scaling. As reported by Mashable, Philips Electronics is hoping to change that with its latest Sonicare electric toothbrush that connects with a smartphone app called Flexcare that guides users through a more thorough toothbrushing routine.
Learn about Periodontal Scaling and Root Planing: http://ImplantPerioCenter.com/Scaling-and-Root-Planing/.
"A number of smartphone apps have come out in recent years that are designed to help people brush their teeth properly. Most patients are sure to brush their teeth every morning and night, but if you don't brush long enough or with the correct pressure and angle, debris and plaque can be left behind, which is what leads to tooth decay and gum disease," said Dr. Aalam.
What you should know about gum disease: http://ImplantPerioCenter.com/Gum-Disease-3/
The new Sonicare and Flexcare system promises to outshine other dental hygiene applications because it provides more than a timer for the ideal amount of time it takes to scrub the teeth and gums, it relays real-time information about how much pressure is being used, which spots have been missed, and when a section has been thoroughly scrubbed.
"The Flexcare app could be very beneficial for many patients who don't spend much time thinking about how well they are brushing and just rush through it every time," said Dr. Krivitsky. "It's important to spend at least two minutes brushing very carefully in order to reach even the hard-to-reach molars. But it's also important to floss before brushing as well."
The Flexcare app encourages users to add flossing in to their daily hygiene and provides points to further motivate users to keep a consistent brushing routine.
"Electric toothbrushes and tooth brushing apps can be very useful, but keeping your mouth healthy really comes down to the basics: brushing and flossing every single day," added Dr. Aalam. "Unfortunately, most patients just try to get through the whole process really quickly and that puts them at risk of cavities, recessed gums, and periodontitis. Hopefully the more devices and apps there are to encourage good dental care, the more people will pay attention to their teeth and gum hygiene."
Dr. Alexandre-Amir Aalam and Dr. Alina Krivitsky are board certified Brentwood periodontists specializing in dental implants and gum and tissue diseases. They opened the CENTER, a periodontal office focused on providing patients with excellent and skilled care at affordable prices, with the goal of restoring oral health and aesthetic appearance. They are alumni of the prestigious Ostrow School of Dentistry at USC and are still heavily involved in academia and giving back to future periodontists at USC. They are also the only two board-certified periodontists in the Brentwood area of Los Angeles.
To schedule an appointment at the CENTER for Advanced Periodontal & Implant Therapy, call 310-826-8242 today or visit our website http://ImplantPerioCenter.com/
CENTER for Advanced Periodontal & Implant Therapy
11620 Wilshire Blvd #718
Los Angeles, CA 90025
(310) 299-8329
Dr.AalamInquiry(at)gmail(dot)com