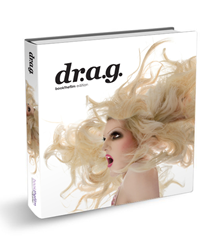 Drag can teach us all how to be bigger and bolder in our day to day lives
Vancouver, BC (PRWEB) June 18, 2014
The dr.a.g. coffee table book provides inspiration to lead a bigger, bolder life with a brash new collection of drag photography. The book 'dr.a.g.'— for dressed as girl—is a beautiful look at the art of female impersonation: positive, uplifting, and completely compelling. Explosions of color, tons of make up and piles of hair— not to mention at 180 pages and 11 x 11 inches—'dr.a.g.' proves that more is definitely more.
The book brings together top drag stars from the Vegas Strip (Larry Edwards, Frank Marino, Mr. Kenneth Blake), New York Icons (Lady Bunny, Joey Arias and Charles Busch), socialite and 'Real Housewife of Miami' Elaine Lancaster, cast members from multiple seasons of RuPaul's Drag Race, and drag legends Eddie Edwards, Coco Peru, Jimmy James, and even Jim Bailey, who's appeared in over 40 film and television appearances including The Carol Burnett Show. Some men have made more appearances of note…but not many while wearing a dress.
When the book lost its original publisher to bankruptcy, Christopher Logan took the reins. Logan produced the book as a means to fund independent film projects. The relaunch is now the first in a series of books celebrating diversity from his new imprint Bookthefilm Publishing.
"Letting this book die was not an option. People seeing drag as art—is something I couldn't let slip away. I am proud of this book coming back", says Logan. "It makes you believe in second chances."
Logan believes that drag can teach us all how to be bigger in our day to day lives. "The men in this book put themselves out there. They are commanding and unafraid. These images inspire and will help you embrace things in a bolder way."
The book is available at http://www.bookthefilm.com and in bookstores across the US and Canada, with a European release this October. This time around, the dr.a.g. book is back bigger and better that ever, with 20 added pages from the original. Logan's favorite quote in the book sums it up: "It's amazing what a man can accomplish when he's wearing the right dress."