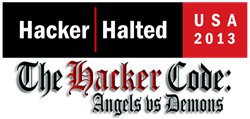 Few outside information security circles realize just how critical cyber security is to systems used to monitor, manage, and maintain chemical plants, natural gas pipelines, dams, railroad switches, nuclear power facilities, and water treatment plants
Atlanta, GA (PRWEB) August 20, 2013
The Hacker Halted cyber-security conference is coming to Atlanta, GA and will host the private screening of Dragon Day on the evening of September 19 before the largest gathering of ethical hackers and IT Security professionals who work to protect individuals, companies, and governments from cyber attacks. The movie explores themes of the NSA, privacy, China, the exploding national debt, and America's vulnerabilities to Cyber War– all topics of which the cyber security industry is keenly aware.
"We are excited to bring this current, relevant movie premier to our exclusive audience of IT Security professionals" says Eric Lopez, Director of EC-Council's Conference and Events.
Mr. Lopez went on to say, "Few outside information security circles realize just how critical cyber security is to SCADA systems, [Specialized control devices used to monitor, manage, and maintain chemical plants, natural gas pipelines, dams, railroad switches, nuclear power facilities, and water treatment plants] and Dragon Day explores this danger and follows the potential, fatal outcome to a malicious attack of this type, in its plot."
In a further example of the movie's relevance, this year's Hacker Halted has dedicated an entire speaking track to SCADA/Critical Infrastructure, which will feature eight industry professionals deliver briefs on a wide variety of Critical Infrastructure topics.
About Dragon Day
Dragon Day stars Ethan Flower (Parenthood, Die Hard 4), Osa Wallander, Jess Gotzon (Doonby, Frost/Nixon), Scoot McNairy (Argo, Killing them Softly, Monsters), Eloy Mendez, William Knight, and Hope Laubach. Directed, written, and produced by award-winning filmmaker Jeffrey Travis, Dragon Day is co-written and produced by Matt Patterson, executive produced by Steve Markham, and produced by Alex Sobol. Kazimir Boyle is the composer. Burning Myth Productions (Los Angeles, CA) and Matter Media Studios (Austin, TX and Los Angeles, CA) developed and funded the projected.
About EC-Council
The International Council of E-Commerce Consultants (EC-Council) is a member-based organization that certifies individuals in various e-business and security skills. EC Council is the owner and developer of the world-famous E-Council Certified Ethical Hacker (CEH), Computer Hacking Forensics Investigator (C|HFI), Certified Security Analyst (ECSA), License Penetration Tester (LPT) programs, and various others offered in over 60 countries around the globe. These certifications are recognized worldwide and have received endorsements from various government agencies including the US Federal Government via the Montgomery GI Bill, and the US Government National Security Agency (NSA) and the Committee on National Security Systems (CNSS) certifying EC-Council's Certified Ethical Hacking (CEH), Network Security Administrator (ENSA), Computer Hacking Forensics Investigator (CHFI), Disaster Recovery Professional (EDRP), Certified Security Analyst (E|CSA) and Licensed Penetration Tester (LPT) program for meeting the 4011, 4012, 4013A, 4014, 4015 and 4016 training standards for information security professionals and most recently EC-Council has received accreditation from the American National standards Institute (ANSI).
For more information about EC-Council, please visit http://www.eccouncil.org .