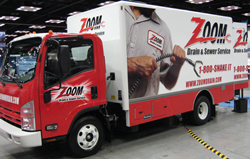 All of our Philadelphia drain cleaning and sewer repair technicians are highly trained. They are also background checked and drug tested, this way you know your family is safe
Philadelphia, PA (PRWEB) October 20, 2014
Philadelphia drain cleaning service should always be handled by a company that is licensed and insured. This way people know they will get their clog cleared and if there is a problem the company will be able to take care of it. Zoom Drain & Sewer Services id fully licensed and insured. They also specialize in providing excellent customer service. They are now offering a new Philadelphia drain cleaning coupon that is applicable to any type of rooter service. Customers who take advantage of the new coupon will get $20 off their total bill. The new coupon expires 05/15/2015.
"All of our Philadelphia drain cleaning and sewer repair technicians are highly trained. They are also background checked and drug tested, this way you know your family is safe when you hire Zoom Drain & Sewer Services," says Jim Criniti, Owner of Zoom. They use the most advanced equipment available when it comes to drain cleaning in Philadelphia. "We use Electro Mechanical Technology and we can clear simple clogs fast. If more muscle is needed we also specialize in Water Jetting," says Jim.
Zoom Drain & Sewer Services gets a lot of calls for drain cleaning in Philadelphia and surrounding areas. In addition to Philadelphia County they also service Montgomery County, Bucks County, Delaware County ad Chester County. Unlike some plumbers they also respect your time. There is no extended service window where people have to waste their day. Zoom Drain & Sewer Services calls or emails to let their customers know that they are on their way. "When we say, We'll be there!, you can be sure that your drain issue is as good as gone," says Jim.
Zoom Drain & Sewer Services also specializes in Philadelphia sewer repair and trenchless sewer pipe replacement. They can provide homeowners or commercial clients with a video camera inspection of the sewer pipe. This is the best way to determine exactly what the problem is. "Our plumbers can look at the video and recommend the best sewer repair for the situation," says Jim.
To learn more about Zoom Drain & Sewer Services please visit their website. To take advantage of the new Philadelphia drain cleaning and rooter service discount or to schedule service please call (215) 247-2119.
Zoom Sewer & Drain Cleaning
Philadelphia, PA 19118
(215) 247-2119
zoomdrain.com