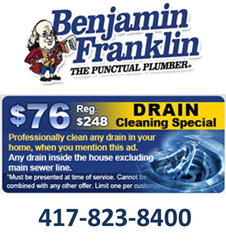 Springfield, MO (PRWEB) June 25, 2014
Keeping household drains clean and clear is every homeowner's responsibility—but if one doesn't have the time or know-how to get the job done right, the time is now to take advantage of a drain cleaning discount from Ben Franklin Plumbing, Springfield, MO's finest plumbing company.
The coupon, which must be printed out and presented at the time of service, offers a substantial discount for a limited time—an expert cleaning of any drain in the home (excluding the sewer line) for $76, as opposed to the regular price of $248.
Ben Franklin Plumbing's drain cleaning service will rid any household drain of grease, hair, soap, and any other substances that can cause clogs. Clogs are the number one plumbing problem, and Ben Franklin Plumbing's experts have perfected their techniques for ridding drains of damaging and frustrating clogs without harming the pipes—and they do this by using tried-and-true products and procedures.
BioBen, a product exclusive to Ben Franklin Plumbing, uses naturally occurring bacteria to eat the clogging debris from drain pipes. It is perfectly safe for pipes as well as the home and environment. Ben Franklin Plumbing also utilizes Aqua Bright Pipe Rejuvenation to clear and clean dirty or clogged pipes using high-pressure water blasts to remove stubborn clogs. This treatment is guaranteed to keep pipes clog-free for over five years, or Ben Franklin Plumbing will return, remedy the situation, and also offer a guarantee of 150%.
The drain cleaning coupon is available for a limited time, is restricted to one per customer, and cannot be combined with any other coupons.
About Benjamin Franklin Plumbing
Benjamin Franklin Plumbing is a full service plumbing company serving Springfield, Missouri and surrounding areas. The company provides plumbing repairs, service checks, installations and many other services to residential customers. All technicians are paid by the job, not by the hour and the company offers a straightforward written pricing guide to avoid surprises and misunderstandings.
Springfield's Benjamin Franklin Plumbing is locally owned, but as part of an established national brand, the company is able to offer exceptional service, repair and on-time guarantees.
Emergency plumber services available. Call 24 hours a day to reach a top-quality professional.
Contact:
Frank Elston
http://springfieldplumbermo.com
Benjamin Franklin Plumbing
3378 S. Scenic Ave, Suite C
Springfield, MO 65807
(417) 823-8400