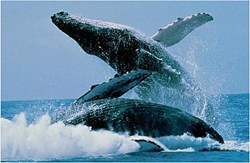 Drake Bay, Osa Peninsula, Costa Rica (PRWEB) August 07, 2013
"The longest migration trek of any mammal in the world has begun to grace our shores and is giving us a glimpse in to souls of these majestic creatures", was the excited announcement delivered by Bradd Johnson, the owner of Aguila de Osa Inn, a Drake Bay hotel.
"The Humpback and other whale populations are a good example of what can be accomplished when the world works together. From being hunted to the brink of extinction to now making a slow but steady recovery, with a guesstimated 25,000 members in the southern hemisphere, we are hopeful that we will see a full recovery of their population", Mr. Johnson continued.
The Costa Rica Dome is an area off Costa Rica's west coast that produces a very abundant amount of food for numerous marine species including the Humpback whale. Because of its existence, the warm shallow waters of the area - and the many underwater protected areas - both the southern and northern Humpback families migrate to the Costa Rica coast for breeding and calving. The two separate hemisphere populations alternate their presence here. Costa Rica is the only area in the world where these two populations share breeding and calving grounds.
The southern Humpback population migration begins as the winter sets in on Antarctica bringing these whale families to the shores of Costa Rica from July to late October. The months of July and August see the greatest number of calves born.
The absolutely astounding acrobatic displays of these massive creatures that can weigh up to 30 tons and stretch up to 60 feet long, draws people from all over the world to witness the spectacle.
"These whales represent the absolute majesty of nature and how something as small as man can threaten even the largest creatures. I am just glad we have come to our senses and created a worldwide conservation program that is helping these beautiful animals recover," Mr. Johnson added.
The off shore areas near this "Greentique Hotel" hum with activity as world travelers take part in well managed tours to get a glimpse of a mother Humpback and her calf (Humpbacks give birth roughly once every two years) or to see some of the breath taking displays of agility as the whales hurl themselves up and out of the water. Once the season is over in October the whales migrate back south to the edge of the Antarctica ice pack and colder waters where the krill are abundant to feed.
The Humpback families from the northern hemisphere also visit the breeding and calving grounds off Costa Rica's west coast but do so from December through April, another whale watching extravaganza. These two Humpback seasons give Costa Rica the most extended period of Humpback whale-watching of any place in the world.
Aguila de Osa Inn takes great pride in being a member of the Greentique Hotels of Costa Rica, a group of leading edge green hotels that make every effort to enhance the industry of sustainable hospitality while giving back to their jungle neighbors.
The Greentique Hotels (GTQH) members feel it is very important to create and expand sustainable green practices to assist Costa Rica in its quest for carbon neutrality.
Creating and expanding green practices across the brand is how GTQH is helping Costa Rica pursue its goal of carbon neutrality. The industry of tourism offers this tropical country the opportunity to expand its productivity while decreasing its impact on the environment that it embraces as its principal revenue source.
There are many changes that still need to be made but Greentique Hotels and other members of the Costa Rican society are now focused on the ingenuity needed to bring people to isolated destinations while reducing the need for carbon fuels.
The consumption of energy for the various purposes of operating a tourism based business is where the major change must take place. Carbon emissions and other petroleum based waste production has to be reduced to a trickle. The sustainability of the tourism sector offers the greatest hope for developing a model that other industries can embrace and adjust to bring their sector onto a path that will preserve this planet and not consume it.
About Aguila de Osa Inn
Established in 1992, Aguila de Osa quickly became known as the premier eco-lodge in Costa Rica. Nestled along the Pacific Rim above Drake Bay, Aguila de Osa is ideally located next to the world renown Corcovado National Park. Heavily focused on sustainable tourism, Aguila de Osa is a proud member of Greentique Hotels - an environmentally conscious hotel brand with an emphasis on providing a low carbon "eco-friendly" Costa Rica vacation.
For more on Greentique visit their website at http://www.greentiquehotels.com and for more information on Aguila de Osa, visit their web site at http://www.aguiladeosa.com.