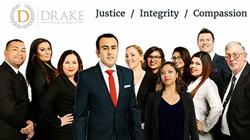 What sets my firm apart from others is the attention to each client's special needs.
Sherman Oaks, CA (PRWEB) April 24, 2017
The Drake Law Firm, which focuses on personal injury and car accidents, was recently named a Premier Law Firm of 2017 by Newsweek. "What sets my firm apart from others is the attention to each client's special needs," said Benjamin Drake, founder of the Drake Law Firm.
Attorney Drake is also celebrating his tenth anniversary of establishing Drake Law Firm. During the course of its illustrious ten years, Drake Law Firm has won numerous notable settlements and recovered millions of dollars for clients in Los Angeles, San Bernardino, Riverside, Orange County, the Bay Area and San Joaquin County, including Pedestrian v. Trust $2.1 million, Vehicle v. Vehicle $7 million, wrongful death $1.5 million, and Motorcycle v. Vehicle $1.35 million, to name a few.
Drake Law Firm is revered for treating each of his clients as individuals. His level of professionalism and compassion is unusual in the legal field, and he personally visits clients who are unable to come to his office and assures that each has an opportunity to recover and return to their previous state of living.
"Benjamin Drake of Drake Law Firm is absolutely amazing. He is always available for professional and personal needs and/or advice," said client Courtney D. "Not only is he extremely smart, but he gets to know you personally to better serve your needs. He's not only helped me, but several members of my family."
About Benjamin Drake, Drake Law Firm
Benjamin Drake is a member of the Beverly Hills Bar Association, Encino Bar Association, Consumer Attorneys Association of Los Angeles and Los Angeles Bar Association. Practice areas of the Drake Law Firm include personal injury, dog bites, car accidents, motorcycle accidents, truck accidents, bicycle accidents, pedestrian accidents, slip and fall accidents, and construction accidents. For more information, please call (844) 513-7253, or visit http://www.drakelawgroup.com. The law office is located at 15456 Ventura Blvd., Suite 304, Sherman Oaks, CA 91403.
About the NALA™
The NALA offers small and medium-sized businesses effective ways to reach customers through new media. As a single-agency source, the NALA helps businesses flourish in their local community. The NALA's mission is to promote a business' relevant and newsworthy events and achievements, both online and through traditional media. For media inquiries, please call 805.650.6121, ext. 361.