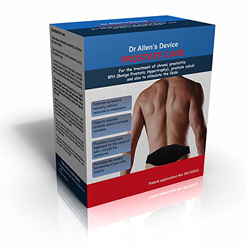 Dr. Allen's therapeutic device treats enlarged prostate safely and, moreover, helps men to avoid unnecessary harmful medications and invasive procedures.
London, Great Britain (PRWEB) July 05, 2013
Until recently there has not been a satisfactory remedy for benign prostatic hyperplasia (BPH). So now the attention of some of the leading urologists has turned to a new prostate treatment with Dr. Allen's Device, which is able to reverse prostate enlargement, a common problem in men over the age of 50. For instance, Prof. Aghajanyan, a leading Armenian urologist, points out that some of his BPH patients have already started to use Dr. Allen's therapy.
The article, 'Treatment of chronic diseases through Dr. Allen's Device: An interview with Professor Ivan G. Aghajanyan' in Panorama.am, reviews the effectiveness of the Thermobalancing therapy with regards to urological problems. "We have already started testing the efficacy of Dr. Allen's device on 10 of our patients. I should note I'm using it myself. So in 3-6 months, we'll conduct another examination, review the progress of the treatment, and then repeat the examination again later on," says Professor of Medicine Aghajanyan.
The Telegraph addressed a question from its reader with BPH on June 25, 2013: "Having being diagnosed with an enlarged prostate, what foods would you recommend, which should I avoid, and what lifestyle should I adopt to help this condition reduce or at least maintain the status quo?"
"It doesn't seem that eating a healthy diet with plenty of vegetables, being active, avoiding obesity, opting for healthier fats where possible and even enjoying an occasional alcoholic drink may help to maintain a healthy prostate," says Sara Stanner, an expert contributing to the Health Advice section of The Telegraph. "There is also interest in herbal supplements, in particular the extract of the berry of saw palmetto. Some sufferers have reported its use to reduce urinary symptoms, but a recent trial of 369 men in North America didn't find any benefit for urinary symptoms or any other outcomes related to BPH."
Contrary to healthy foods, herbal supplements, medications or surgeries, Dr. Allen's Device for Prostate Care provides a unique independent approach to the treatment of prostate enlargement by improving blood circulation in the affected organ locally. Oxford Innovation has released a testimonial that confirms the success of prostate enlargement termination with Dr. Allen's Device. You can watch a short video here: http://www.youtube.com/watch?v=V5xidswhxJM.
"Foods and herbal supplements do not stop the progression of prostate enlargement," says Dr. Simon Allen. "Dr. Allen's therapeutic device treats enlarged prostate safely and, moreover, helps men to avoid unnecessary harmful medications and invasive procedures."
For details, visit Fine Treatment at http://finetreatment.com/bph-treatment-prostate-enlargement.
About Dr. Simon Allen and Fine Treatment:
Dr. Simon Allen, MD, PhD is a highly experienced medical professional. His specialty is in the internal medicine. He has treated a wide range of chronic diseases, including patients after a heart attack, with kidneys problems, including kidney stones disease, prostate and spine conditions, as well as metabolic disorders. Fine Treatment exclusively offers Dr Allen's devices for chronic prostatitis and BPH treatment, coronary heart disease, dissolving kidney stones, as well as back pain and sciatica relief.