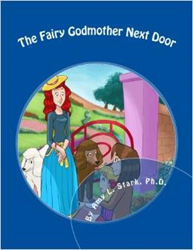 Imaginative play and wishing are important parts of living a full life.
Santa Ana, CA (PRWEB) May 04, 2015
The opportunity for children to dream of a bright future and live a full life are the motivating forces behind The Fairy Godmother Next Door, a new children's picture book, by California clinical psychologist and author Amy L. Stark.
The inspiration for the enchanting story of a fairy godmother and the little girl next door comes from Stark's desire to be a fairy godmother.
"My wish came true," said Stark. "I've been a fairy godmother to my neighbors' children since they were born. We discuss fairies and elves, feelings, wishes and dreams – all things children should have an opportunity to do."
When she's not writing books, Stark works with children impacted by high-conflict divorce. Her years of helping children cope with stressful situations further re-enforced her observation that kids need to expand their imagination and express themselves on the path to living a full life.
"Imaginative play and wishing are important parts of living a full life," Stark explained. "In our busy lives, we often forget about them."
The Fairy Godmother Next Door reflects messages of hope, giving, understanding and playfulness. Beautiful, full-color illustrations bring the story to life and include a magical landscape with a fish pond and fairy garden and a home with a heart-shaped gate and two friendly dogs. The dogs are an important part of the story, too.
"Dogs have lessons to teach us all, about unconditional love and compassion and understanding," Stark said. "They have a deep knowing about people, which often surpasses words, and they provide comfort, support and playfulness. There is magic in all of that."
The Fairy Godmother Next Door is $12.99 and available at amazon.com and other booksellers.
About the author
Dr. Amy Stark, Ph.D. is a highly respected clinical psychologist based in California. She received her doctorate from the California School of Professional Psychology in San Diego. Her background in education is in child psychology. Dr. Stark is best known for her work with high-conflict divorce situations and brings her child psychology expertise to her work with children of high-conflict divorce. Follow Dr. Stark on Twitter @drstark and at http://www.dramystark.com