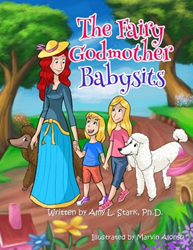 Children need to look in the world around them for wonder.
Santa Ana, CA (PRWEB) July 13, 2016
Caring and empathy are at the center of The Fairy Godmother Babysits, a new illustrated children's book by California clinical psychologist and author Amy L. Stark.
The beautifully illustrated story is the second in a series of fairy godmother books written by Stark. The first book The Fairy Godmother Next Door focused on a little girl who lives next door to a woman she believes is her fairy godmother. The new book picks up from there giving the girl a little sister and a new magical experience.
"The fairy godmother is invited to babysit the girls," said Stark, "setting up an evening of wonder." The girls also share a heart-warming relationship with the fairy godmother's two dogs. It is a story with messages of caring for and about others.
"When we reach out and do an extra little bit more for those around us, we can make things better," Stark explained."
Stark's work with children impacted by high-conflict divorce and stressful situations further enforced her belief that children need to look in the world around them for wonder.
"We will find it in the littlest of things," Stark said. "That's the most important lesson of all."
The Fairy Godmother Babysits is illustrated by Marvin Alonso. Beautiful, full-color illustrations bring the story to life. The book is priced at $9.99 and available at amazon.com. The Kindle version is $2.99.
About the author
Dr. Amy Stark is a clinical child psychologist based in California. She received her doctorate from the California School of Professional Psychology in San Diego. Dr. Stark is author of The Fairy Godmother Babysits, The Fairy Godmother Next Door, the self-esteem books Whole Heart for Girls, Whole Heart for Young Women, and the business book Because I Said So. Follow Dr. Stark on Twitter @drstark and at http://www.dramystark.com