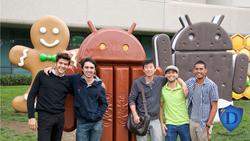 San Mateo, CA (PRWEB) September 16, 2014
Draper University entrepreneurship program graduates are making waves in startup communities across the globe. Launched in 2012 in Silicon Valley by successful venture capitalist Tim Draper, Draper University runs startup training programs for entrepreneurs from all over the world. Students learn to think differently and are encouraged to start businesses that will change the world.
Recent graduates from the entrepreneurial program include female racecar driver Collete Davis, who graduated from the Spring 2013 cohort. Collete, a Formula 1 racecar driver and STEM education ambassador recently co-founded TechDrive online magazine with Bravo! TV Silicon Valley cast member Hermione Way and was recently featured on the cover of FSHN magazine.
Other recent graduates include Mu-Chi Sing and Colin Heilbut, both from the Winter 2014 cohort, who successfully crowdfunded over $200,000.00 for Bistro, the smart feeder that recognizes your cat's face. Bistro is the world's smartest feeder that can track appetite and weight change using an innovative cat facial recognition technology.
More innovative graduates, all from the Summer 2013 cohort, include the founders of two wearable technology startups. James Kernan founded the startup Q Designs and launched the Q Bracelet, an innovative stylish bracelet that charges your smartphone. Brian Friedman and Allen Houng founded the startup Loopd, a platform that streamlines interaction between business professionals.
In the social entrepreneurship sector, alumnae Lizzie Faust and Kendra Wilkins are supporting malnourished children in Haiti with sales of their all-natural peanut butter through their startup Peanuts4Peanuts.
Innovative marketer Kerstin Karu of the spring 2013 cohort launched Blast Buzz to help brands connect with people to co-create and amplify word-of-mouth buzz across social media. Kerstin was recently featured on VentureBeat speaking on the future of marketing.
Other notable alums include Apurv Mishra, a developer and engineer who is launching TAP, an app that will be the fastest, simplest messaging application. Users simply "tap" their smartphone to send a notification. In the gamification sector, alum Alex Chen is changing the landscape by creating TestLegends, a tool for educators to make test preparation more fun and engaging. Disrupting the moving sector in India is Mithun Srivasta, who launched Blowhorn, the Uber of home delivery, in order to bring easy delivery into homes across India.
Draper University is now taking applications for its Winter 2015 cohort, which runs from January 15 to March 13, 2015. Apply online at http://www.draperuniversity.com
About Draper University: Located in the heart of Silicon Valley, Draper University is the brainchild of free-spirited venture capitalist Tim Draper, and co-founder of Draper Fisher Jurvetson Venture Fund. Draper University is an innovative school for entrepreneurs, offering both residential entrepreneurship programs and an online program for the brightest entrepreneurs from around the world. Students experience Silicon Valley via a cutting edge, hands on curriculum taught by the most successful entrepreneurs in the Valley. Learn how to launch a business in this unique startup boot camp for entrepreneurs. For more information about the program or to apply online, visit http://www.draperuniversity.com or contact us info(at)draperuniversity(dot)com.