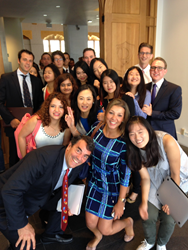 San Francisco, CA (PRWEB) October 30, 2014
Draper University, the innovative and disruptive school for entrepreneurs, has announced a partnership with Cal Poly, San Luis Obispo for January 2015 to bring up to 24 Cal Poly students to Draper University for their winter session. The course is part of a new university-wide program at Cal Poly called "Silicon Valley Entrepreneurs: A Study Away Entrepreneurship Immersion Program." It is an interdisciplinary effort to allow students in business, engineering, liberal arts, and any other field, to spend a quarter involved in entrepreneurial activities in Silicon Valley while maintaining progress toward a degree.
"This is a unique opportunity for Cal Poly students from all disciplines throughout the university," said Jeffrey D. Armstrong, Cal Poly president. "The Draper University program, like Cal Poly's Learn by Doing approach, fosters creative thinking and teaches students the value of jumping in, doing the work and learning from failure on the way to success."
The exciting partnership features a curriculum focused on experiential education. The goal is to teach entrepreneurship to people who are relentless in their desire to change the world and make things happen in a traditional and nontraditional learning environment.
"We know our hand-on training and access to Silicon Valley innovators provides an experience that can't be replicated in a university setting," said Tim Draper, founder of Draper University. "We are honored to work with all these potential technology innovators of the future from CalPoly."
Draper University has over 250 alumni – former students have started over 60 companies, raised over $7.4 million in capital, are working at large companies including Tesla and Google, as well as at start-ups, and attending business school at Harvard and Stanford. Draper University recently launched a free online course focused on bitcoin for individuals who are new to the bitcoin space or do not have a technical understanding of the digital currency.
Draper University is still taking applications for its winter 2015 session, which runs from January 25 to March 13, 2015. Apply online at http://www.draperuniversity.com