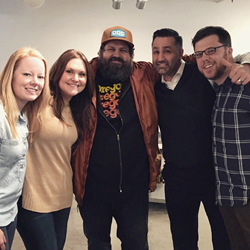 Draplin presented his story from start to finish in a boisterous, yet brutally honest, fashion.
Springfield, Mo (PRWEB) April 15, 2015
The Marlin Network, a group of foodservice marketing agencies based in Springfield, Missouri, recently invited designer Aaron Draplin to speak to the collective creative teams and surrounding community. Draplin, founder of Field Notes, has gained national recognition for contributing to the design cannon of Nike, Burton Snowboards, Ford and the Obama Administration.
"At the Marlin Network, we seek to bring in relevant out-of-town speakers that can take our knowledge in a given industry deeper and spark our creativity," says Dan Stewart, partner at deep—an affiliate of the Marlin Network. "Draplin's work is an inspiration for many of our designers, including myself, and it was an honor to meet him and hear his story."
Draplin's passion for the graphic design industry was apparent in his zealous presentation as well as his bold career path. This entrepreneur founded Draplin Design Company in 2004 after working a variety of jobs around the country. Draplin now uses his talents to create logos for a variety of companies across the globe.
"Draplin presented his story from start to finish in a boisterous, yet brutally honest, fashion," says Preston Brigham, senior art director at deep. "He didn't skip a beat while transitioning between his history, work experience and advice for aspiring graphic design professionals. During his presentation it was apparent that he lives for not only design, but building relationships, helping others and collecting unique life experiences."
To read more about Aaron Draplin's presentation, visit deep's blog, and to learn more about deep's work and clients, visit deepgroup.com.
About deep
Founded in 2005, deep is a renowned food-branding agency that creates successful business-to-business and direct-to-consumer advertising campaigns across the United States and around the world. Deep is part of the Marlin Network, which represents over 70 food and beverage brands. The Network also consists of FoodIQ, STARAwards, The Alchemedia Project, Marlin and Marlin Network Consulting. Based out of Springfield, Missouri, Marlin Network is the number one purchaser of foodservice media and was listed in Inc. Magazine's list of America's Fastest Growing Companies in 2010, 2011, 2012 and 2013. To learn more about deep, visit deepgroup.com or follow the agency on Twitter, Facebook, Pinterest, Instagram and the b!eep blog.