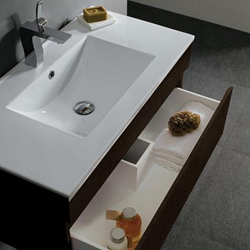 Having a drawer or two at waist height makes it just that little bit more convenient to put stuff away between uses, leaving the counter free and uncluttered and the bathroom looking a little cleaner.
(PRWEB) October 14, 2013
HomeThangs.com – the Online Home Improvement Store has made their goal to deliver the right product to the consumer. With that in mind, shopping and home design tips, as well as special product selections are being introduced.
One of the most important features of a bathroom vanity is storage. Many, many bathroom vanities handle storage poorly, with a single oversized cabinet that isn't much help to anyone. While it may seem simple, one of the most effective storage features is actually a simple drawer. HomeThangs.com has introduced a guide to just exactly why this single feature is so important.
Practically everyone has some kind of small toiletry items that need storing. It's fine to shove a big bottle of hair spray or a drier underneath the cabinet, but things like razors, nail polish, tweezers, hair brushes, and so on are easily misplaced in a large, unorganized cabinet. It's often these smaller items that are used the most often, and are the most important for keeping close at hand. And while these items can be crammed into a medicine cabinet, even one or two very small drawers can keep them closer at hand and reserve the cabinet for actual medicine.
Having a drawer or too can also help keep counter tops neater and cleaner. When a large storage cabinet and an over-full medicine cabinet are the only places to store the most-used day-to-day items, there's a better than even chance that many of those items will take up residence on the counter. Having a drawer or two at waist height makes it just that little bit more convenient to put stuff away between uses, leaving the counter free and uncluttered and the bathroom looking a little cleaner.
Many contemporary or modern bathroom vanities are beginning to feature much better storage features, including a lot more drawers both on the inside and the outside. The simpler, more streamlined aesthetic of modern, contemporary, and transitional bathroom vanities makes it easier to add more drawers without disrupting the style, but there's one modern feature that really allows for a lot more drawer space: vessel sinks and other slim profile sinks. Because the vanity cabinet doesn't need to accommodate the underside of the sink, drawers can be fitted all the way up to counter level with only a few design tweaks to accommodate the plumbing, rather than leaving that whole area empty. Modern wall mounted bathroom vanities are often little more than one big drawer, which affords the most organized type of storage at the most accessible height – right at waist level.
It's a little more difficult (but not impossible) to find more traditional looking bathroom vanities that are designed well and that have drawers simply because it's more difficult to integrate functional drawer space into a very traditional design without altering it. That said, look for antique bathroom vanities that have two small drawers at either corner just beneath the top of the vanity, or slightly larger vanities that have drawers on one or both sides of the main cabinet.
It's also extremely important to make sure that the drawers on a prospective bathroom vanity are, in fact, drawers. This might sound silly, but it can be a little difficult to tell the difference between an actual drawer and faux drawer panels. Thin drawers that go all the way across underneath the counter top are almost always fake, and any drawers near the sink or plumbing should be suspect. Worse, though, are bathroom vanities that disguise their single, large, drawer-free cabinets with a door paneled to look like drawer fronts. Until the door is opened, it can be difficult to tell, so always be sure to read the fine print and get a count of how many drawers a bathroom vanity actually has.
For more storage smart bathroom vanities, check out the full article here.
HomeThangs.com is not only a home improvement superstore, it also provides expert design tips and a comprehensive shopping guide, taking the ideas from professional interior designers, and offering tips to the consumers on how to pick the products to best suit their needs.