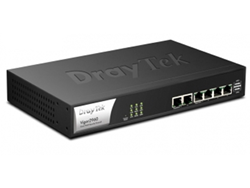 Milwaukee, WI (PRWEB) May 27, 2014
IP Phone Warehouse is thrilled to introduce DrayTek's award-winning network solutions. DrayTek routers include innovations like multi-WAN interfaces with load balancing and ISP redundancy, and USB ports for integrating mobile WAN interfaces or directly connecting sharable resources to the network.
Modern businesses are including mobile devices and multimedia into their communications strategies like never before. Network hardware needs to keep up with businesses as they grow and transform. DrayTek's routers and wireless access points are designed to keep up with these customized networking solutions.
Key features that distinguish these routers:

Dual-WAN and quad-WAN interfaces
Load balancing, redundancy and failover
Mobile WAN 3G/4G-ready
USB ports for sharable devices
VPN tunnels for remote access
Comprehensive security protocols
FXS ports for analog endpoints
IPv6-ready architecture
The DrayTek Vigor2960 router includes two gigabit Ethernet WAN ports. Connect two Internet service providers to the router and dramatically increase your network's productivity. The Vigor2960 offers load balancing and failover, ensuring data is exchanged evenly across the dual WAN ports, or redirecting traffic to one WAN port should one ISP become unavailable.
Many of the DrayTek Vigor routers, including the Vigor2960, feature a USB port. By plugging in a USB dongle provided by your wireless carrier, the router can reach the same 3G or 4G mobile network as your business' cell phones. This enables you to leverage an already existing network as an additional WAN. Directly connect printers, servers or temperature sensors to the USB port as well.
Moreover, the DrayTek Vigor2960 offers 200 VPN and 20 SSL VPN tunnels, with intelligent security protocols guiding remote access. SMS, email alerts and notification services are also supported across the WAN and VPN connections.
Models like the DrayTek Vigor2920Vn wireless router help businesses migrate their existing analog connections and Telco services. Two FXS ports let you connect analog phones and fax machines to VoIP and Fax over IP. An FXO port provides a failover connection to the PSTN should the VoIP service disconnect. This is all in addition to a dual-WAN interface and a USB port.
Review DrayTek's IPv6-ready routing and networking solutions for yourself at http://www.ipphone-warehouse.com/DrayTek-s/2083.htm. Send your questions to IP Phone Warehouse at (888) 201-9056 or service(at)ipphone-warehouse(dot)com.
About IP Phone Warehouse
IP Phone Warehouse is the leading specialty reseller of VoIP phones, video conferencing equipment and network devices. We're stocked with everything that small businesses and enterprises need to deploy reliable VoIP and video solutions. A dedicated customer service team and a wide range of available online resources support every product at IP Phone Warehouse.