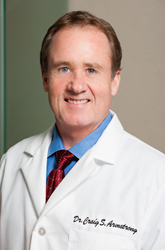 Having been an integral part of creating past events, [Dr. Sauer] has a unique understanding of the knowledge that a dental staff can gain by attending the annual Star of the South Dental Meeting. - Dr. Craig Armstrong
Houston, TX (PRWEB) March 31, 2014
Last week Craig Armstrong, DDS and his entire staff attended the Star of the South Dental Meeting, which took place in Houston, TX. The meeting is an annual three-day event that has been sponsored by the Greater Houston Dental Society for the last 43 years. The highlights include dozens of seminars led by industry experts, special guest speakers, networking events and exhibits that allowed attendees to see the latest tools and technology in action.
The theme of this year's meeting was 'Visualizing the Future of Dentistry,' focusing on how new innovations are making practices more efficient and proficient at treating a range of oral issues. Nutrition, 3D imaging, lasers and implants were all hot topics. During the conference Dr. Armstrong and his staff participated in numerous classes that counted towards continuing education hours. Some of the seminars attended centered around nutrition and oral health, as well as scientific-related classes on medications and oral wellbeing.
Dr. Ed Sauer, one of the newest additions to the Craig Armstrong, DDS office, is extremely familiar with the Star of the South Dental Meeting and the value it provides to attendees. Dr. Sauer was the former president of the Greater Houston Dental Society and a past chairman of the Star of the South Dental Meeting. "Dr. Sauer has been a valuable addition to our team," said Dr. Armstrong. "Having been an integral part of creating past events, he has a unique understanding of the knowledge that a dental staff can gain by attending the annual Star of the South Dental Meeting."
To learn more about the office of Dr. Craig Armstrong, DDS, his staff and Dr. Ed Sauer please visit: http://www.CraigArmstrongDDS.com.
ABOUT DR. CRAIG ARMSTRONG, DDS
Dr. Craig Armstrong, DDS has been practicing general and cosmetic dentistry in the Houston area for over 24 years. Dedicated to providing patients will the best care using the latest technology and techniques, Dr. Armstrong has continued his education since graduating from the University of Texas Dental Branch in Houston. He is also an active member in the dental community, previously serving as the President of the Greater Houston Dental Society and is currently a member of the Texas Dental Association and the American Dental Association.