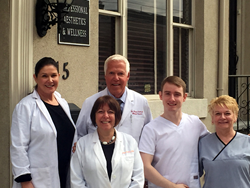 Reduction in the symptoms of feminine aging often has been reported immediately after the first treatment
PHILADELPHIA, Pennsylvania (PRWEB) April 21, 2016
Dr. Richard Dittrich and Professional Aesthetics and Wellness are proud to be the first in the state of Pennsylvania to offer the breakthrough technology of the new Juliet™ treatment – the gentle laser treatment to help reverse the effects associated with female aging. Juliet is an innovative treatment that can allow women to treat the problematic symptoms often associated with childbirth and gynecological aging. Laser treatment is completed in-office and takes approximately 15 minutes. It is essentially painless with a low risk of side effects. The rejuvenation is done without incisions or sutures and does not require anesthesia. A woman can return to her life!
As a woman ages, so does her vaginal tissue. These can strongly affect the quality of life of a woman – physically, psychologically, as well as sexually. It can put an undue strain on her relationship with her partner. Many women who experience frustrating symptoms (such as poor vaginal lubrication, loss of vaginal tightness and even pain during intercourse), do not like to talk about these issues. Instead, they suffer in silence, feeling ashamed and thinking they are the only ones with these problems. These symptoms are quite common in women of different ages and tend to worsen over time if not treated.
Until recently, these changes were considered an inevitable part of the female aging process. Treatment was recommended only to women who had medical complications or severe vaginal deterioration. Surgery was the only answer. Complications, such as infection and fistula formation were common. "Down time" was weeks or months.
Women are living longer, healthier lives sexuality is an important part of their lives. The ability to continue one's sexuality is one key to good health. The Juliet laser can be individually tuned to "turn back the clock" on feminine aging. Women report that their symptoms are improved after the first treatment. Elasticity and lubrication are restored. Bladder symptoms, such as leaking are improved. Sexual intercourse becomes comfortable again. Results will continue to improve in the months that follow. For some, better results are achieved with 2 - 3 sessions.
Dr. Richard Dittrich stated:
"Vaginal rejuvenation is a noninvasive way that you can mechanically and physiologically correct the defects in the tissue that are caused by aging or childbirth. Vaginal rejuvenation with the Juliet laser will help remold the vagina. It will help to tighten the vagina, assist with leakage and it will help with vaginal dryness."
While some women may need 2 or 3 Juliet treatments, Dr. Dittrich says:
"The cost is much lower than what you would pay for years of expensive hormone therapy that may or may not work. Additionally, hormones work very little in treating vaginal laxity. Before Juliet, there was very little you could do for laxity, other than surgical vaginoplasty (similar to an episiotomy repair where you surgically bring the parts of the vagina closer together) or extensive surgery to rebuild the vagina."
Juliet has been available for years in Europe, Asia and other parts of the world; the FDA has now cleared the system for the USA!
About Dr. Dittrich and Professional Aesthetics and Wellness Center (PAWC)
Dr. Dittrich is a Fellow of the American Academy of Gynecology. He has offices in Philadelphia, PA and Voorhees, NJ. He acts as a consultant to both industry and insurance companies. In addition, he is the medical director of Professional Aesthetics & Wellness Center in Philadelphia. PAWC offers bio-identical hormone therapy, medically managed weight loss management, laser and other cosmetic procedures. His team can be reached at (215) 465-9600 or visit http://wellnesscenterpa.com/ for more information.
About the Juliet Treatment
The Juliet is performed with the MCL31 laser, which is available from Zarin Medical™. Zarin provides a suite of lasers for medical conditions (feminine rejuvenation, urology, etc.) and aesthetic procedures (tattoo removal, hair removal, wrinkle reduction, vascular conditions, etc.). Zarin can be reached toll-free at (844) 927-4600. Or, visit http://www.ZarinMedical.com for more information. International inquiries may also visit http://www.Juliet-Laser.com