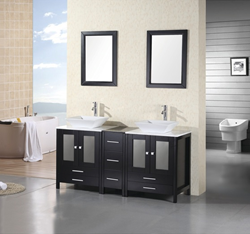 Part of the dream bathroom experience is incorporating spa-like features into the bathroom, but this can take many forms, from small luxuries to extensive high tech features.
(PRWEB) January 09, 2014
HomeThangs.com – the Online Home Improvement Store has made their goal to deliver the right product to the consumer. With that in mind, shopping and home design tips, as well as special product selections are being introduced.
Design magazines and home improvement shows are full of huge, sprawling spa style bathrooms. The prospect of having an in-home spa is certainly appealing, but for most, this type of extensive renovation simply isn't a possibility. That said, focusing on the essential elements and knowing where to splurge and where to save can make this type of renovation attainable in the average home. HomeThangs.com has introduced a guide to a few of the most important features – both for personal enjoyment and in terms of resale value.
The Bathtub
The bathtub has long been considered the most important feature of the bathroom, but this has become much less true in recent years. A busy modern lifestyle often means there isn't time to wait for a 100 gallon whirlpool to fill, let alone enjoy a long soak. That said, no master bathroom should be without a tub. Instead of an expensive whirlpool for two, look for a mid-sized soaking tub that's deep enough to soak in comfortably. These will be less likely to require a new water heater or other plumbing modifications, which makes them a much more budget friendly option, too.
The Shower
Rather than the tub, most buyers are looking for spa style showers, the bigger and more shower heads the better. Building a luxury shower stall involves two very expensive features: tile and plumbing. An elaborate custom shower system will mean rerouting the plumbing through the walls and likely upgrading the water heater, all of which will need to be professionally tiled. To make this project more friendly, look for a good quality shower system or shower panel, which offers multiple shower heads without the plumbing upgrades, but don't skimp on the tile, which is the real luxury star of this project.
Spa Features
Part of the dream bath experience is incorporating spa-like features into the bathroom, but this can take many different forms, from small luxuries like a towel warmer or small refrigerator, to bigger things like heated floors, or high tech toilets or mirrors with built in outlets, USB chargers, stereo systems, or even flat screen TVs. Accordingly, this is a feature that scales well to fit any budget, as it's possible to add as many or as few as desired.
Spa Treatments
The ideal dream bathroom comes complete with actual spa treatments as well. Steam baths and saunas are both popular options that come with a whole host of health benefits, and both have become widely available and have come down a lot in price in the last few years. Steam baths produce a much moister heat at a slightly lower temperature, while saunas focus on a higher, drier heat punctuated by little puffs of steam. Generally speaking, saunas are better for those with more space, as they have to be installed on their own while steam showers can be integrated into an air tight shower stall.
The Floor
Choosing the right flooring is crucial to building a high end bathroom, and the most popular material is actually quite surprising: hardwood. Wood has become an increasingly popular material in the bathroom, from natural wood vanities to barn beams on the ceiling to teak planks in the shower, and even hardwood floors. These can lend a classic, relaxed, spa like look and feel to an entire bathroom, and make a huge difference in the overall appearance of the space. For those worried about water damage or interested in installing heated floors, consider opting instead for wood print porcelain tile. These have the same weathered, aged appearance of hand scraped hardwood, but have the durability of porcelain and can be paired with in floor heating.
HomeThangs.com is not only a home improvement superstore, it also provides expert design tips and a comprehensive shopping guide, taking the ideas from professional interior designers, and offering tips to the consumers on how to pick the products to best suit their needs.