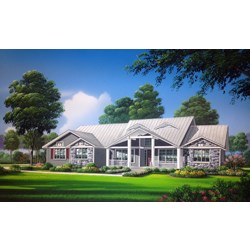 Twin Lakes, WI (PRWEB) October 07, 2013
Majestic Estate Developers begins construction of a one of kind Dream Home that's anything but ordinary. This unique "healthy" Dream Home will be constructed using revolutionary high strength and high performance building materials. The beautiful Healthy Dream Home will provide a very health centered and exceptionally comfortable home for the home owner.
The Dream Home will be the first Healthy Home of its kind in the area. Unlike typical construction, no materials containing formaldehyde will be used in the inner envelope of the home. Alternative materials will be used throughout the building process that will eliminate the presence of mold, toxins, VOCs, and other dangerous toxins that contaminate the inside of traditionally built homes.
An alarming amount of indoor air pollution is the result of traditional home building materials. While alternative materials can add slightly to the cost of a home, the payback in improved health and reduced respiratory issues far outweighs the small investment.
On average, people spend approximately 90% of their time indoors. This makes it imperative that their surroundings be healthy. Unfortunately, in most homes, this is not the case. The Environmental Protection Agency has found that air in new homes can be 10 times more polluted than outdoor air. In fact, they have identified illness caused by poor indoor air quality as the nation's leading environmental health problem. The changes made in the Dream home will virtually eradicate this pollution, making it safe for families to live inside again.
Green building is not always necessarily healthy building; it is, though, usually sustainable building. Majestic Estate Developers is proud to be able to accomplish both with the Dream Home: protecting the homeowner's health while also concentrating on protecting the earth's natural resources with the home's high performance design. Working with partners such as Hi-Tech Building Systems, these forward thinking builders are using ThermaSteel steel structural insulated panels (SSIPs). These panels are made of recyclable steel and EPS and provide extreme strength and durability. The ThermaSteel SSIPs provide superior insulation, eliminate thermal bridging, and considerably reduce energy consumption. When compared to traditional construction, ThermaSteel SSIPs reduce the homes energy requirement by 50-75% which considerably lowers utility costs and provides substantial long term savings for the homeowner. The Dream Home will also be using a metal standing seam roof designed to reflect 33% of the heat which would penetrate a traditional roof. This will create a more comfortable home and further reduce summer time utility costs. The home will use FAR infrared radiant heat (FIR) system for ultra-comfortable and efficient heating for the winter months. Unlike traditional construction, the Healthy Dream Home will feature high performance walls with an effective R value of R-33 and a roof with an effective R value of R-45.
"When I read that a baby crawling on the floor inhales the equivalent of 4 cigarettes a day, as a result of things like the outgassing of carpets, molds, mildews, fungi, dust mites, I was sickened. Between that and the average home's indoor air quality, it's just not safe in our houses anymore," reflects Robert Tomczak, president of Majestic Estate Developers. "I knew we had to make a change – we had to BE the change. That's when the concept of the Healthy Dream Home came about. We are putting all of our knowledge and all the high performance pieces we had been using in our various projects together to make what will truly be the ultimate Healthy Dream Home."
The custom designed Healthy Dream Home is a spacious 2500 sq. ft. split bedroom design ranch with 3 bedrooms and 2 ½ baths. The home features bamboo hardwood floors, granite countertops, custom formaldehyde-free cabinets, and lofted ceilings. The home has oversized porches in front and back to take full advantage of the beautiful surrounding views of the country, overlooking beautiful rolling hills. The home also has features like an oversized three car garage and kitchen island large enough for the entire family.
The Healthy Dream Home is being built on a beautiful 1.39 acre home site at the Meadows of Majestic Estates, located in Twin Lakes, Wisconsin. Majestic Estates is just south of downtown Twin Lakes with easy access to Milwaukee and Chicago. The eco-friendly development is nestled in the country, ½ mile north of the Illinois Wisconsin state line and a short distance from Lake Mary and Lake Elizabeth. Twin Lakes is one of many peaceful and desirable area communities in the area including Lake Geneva, Richmond, and Spring Grove.
If you would like to know more about the Healthy Dream Home please contact:
Majestic Estate Developers
http://www.majestichomesites.com/
Tel 888.681.0053
Fax 847.526.5347
info(at)MajesticHomesites(dot)com
If you would like to know more about ThermaSteel please contact:
Hi-Tech Building Systems
Telephone: 866-241-4390
Fax: 847-556-1057
http://hi-techbuilding.com/
info(at)hi-techbuilding(dot)com