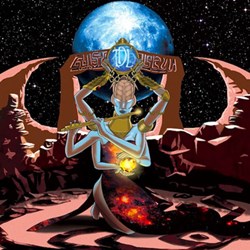 The album pulls influences from all over the sonic soundscape and will have you grooving, raging and rocking out as the impressive 13 tracks resonate in your ears. - Jambands.com
New York City, NY (PRWEB) December 12, 2013
The Dream Logic is a groundbreaking new jam fusion band fueled by New York born and bred musicians—multi-instrumentalist, singer, and songwriter, Charles Compo; bassist, Jerry Brooks; and drummer Camille Gainer. The just released and highly anticipated self-titled debut album features numerous guest appearances, including Soulive's Eric Krasno. The Dream Logic is a high energy, genre-busting musical collective whose freewheeling grooves, fusion, rock, funk, and soul combine to create the ultimate jamband experience.
While the core of The Dream Logic is Compo (William Hooker, Sonny Sharrock,Christina Aguilera, Martha Reeves), Brooks (D'Angelo, Special EFX), and Gainer (Kool & The Gang, Les Nubians), the album includes key contributions from Brian Dunne (Hall & Oates, Daryl's House), percussionist Mustafa Ahmed (Grandmaster Flash), and Grammy-nominated keyboardist Jeff Miller (Shakira, Jeffrey Osborne). In addition, performances by guitarist Eric Krasno (Soulive), string bassist Mark Peterson (Vernon Reid, James Blood Ulmer, Cassandra Wilson), saxophonist James Casey (Trey Anastasio, Robert Randolph), and trombonist Mark Williams (The Legendary Roots Crew, Kool & The Gang) are featured on The Dream Logic.
Highlights on The Dream Logic album include the first single, "The Decision," a fiery pop-rock driven tune and the jazz-rock gem "Spooky Reaction," which features Compo's flute and Krasno's dynamic electric guitar. "Mustafa Sunrise," named for Mustafa Ahmed, is an exotic instrumental with a spirited call and response between Compo's sax and Krasno's guitar. When asked about The Dream Logic, Compo states, "This is my opportunity to create a project where my voice is there throughout, but which also allows the great musicians around me to shine. It's about getting together and playing the kind of music we love. We're creating the dream as our own reality and we don't care about genres or commercial limitations, what we're doing is transcending boundaries with stuff we think will stimulate people's minds and souls."
For the recording of The Dream Logic, Compo headed to Greenwich Village's The Cutting Room. With the boards run by young engineer Matt Craig, Compo gave the songs to his rotating ensemble and let the concept happen organically. The Dream Logic has ushered forth an album that says: "Genres, styles and classifications be damned!" Spanning a myriad of musical styles, The Dream Logic effortlessly blends nuances of jazz, rock, soul, and funk into an amalgam sound where the end result far exceeds sum of the parts.
You can learn more about The Dream Logic at http://www.thedreamlogic.com.
For more information, images, or to arrange for an interview please contact Melissa Zeigler at Powderfinger Promotions: melissa(at)powderfingerpromo(dot)com.
Powderfinger Promotions–Independent Radio Promotion and Publicity. Since being founded in October 1994, Powderfinger has come to be regarded as a top indie radio promotion and publicity firm with ties across North America.