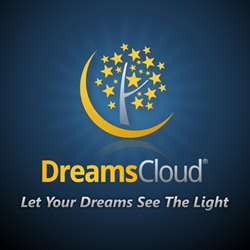 Dreams are the voice of our unconscious mind, and as such are valuable indicators when it comes to evaluating the overall happiness, wellness and health of our nation.
New York, NY (PRWEB) October 28, 2014
Over the past few years, Americans have had less children. However, according to new data from DreamsCloud, the world's leading online dream resource, the nation still has babies on the mind. To uncover the most common dreams nationwide since the beginning of 2014, DreamsCloud examined how often users are dreaming about popular dream symbols and topics via its globally-reaching online platform. According to the results, babies, pregnancy, and houses top the list of most popular dream topics in the U.S.
The American DreamsCloud Index: This Quarter's Most Popular Dream Topics in the U.S.
1. Babies/ pregnancy (24%)
2. Houses (22.3%)
3. School/classroom (18.7%)
4. Water (10.7%)
5. Cars (8.5%)
6. Sex with an ex/ person of interest (8.1%)
7. Teeth falling out/teeth crumbling (4.7%)
8. Snakes (2.4%)
9. Floating upwards (0.6%)
"Dreams are the voice of our unconscious mind, and as such are valuable indicators when it comes to evaluating the overall happiness, wellness and health of our nation," said Jean-Marc Emden, chief visionary officer and co-founder, DreamsCloud. "We believe it's important to note not only what our nation is dreaming about, but to encourage individuals to self-reflect on the 'why?' We want Americans to examine the symbols appearing in their dreams – whether they are friends, family members, significant others; symbols of sex, or houses, or cars – and reflect on the meaning behind them. The American DreamsCloud Index uses the wealth of dream information recorded using our platform, including our online portal and mobile app, to identify key trends and commonalities in our dreams. By digging deeper into these dreams, including tracking, recording and sharing them, we can better understand and improve our overall health and wellness."
The DreamsCloud data also provided insight into where in the country people are dreaming about sex:

Battle of the Midwest states…what really goes on in the Hoosier State?: When looking at dreams about sex with both an ex or person of interest, Missouri and Indiana are on opposite sides of the spectrum. While Missouri rarely dreams about sex (1.8% compared to a national average of 8.1%), fellow Midwest inhabitants in Indiana reported sex dreams more than any other state (14% compared to a national average of 8.1%). Breaking it down further, residents in Indiana reported 87% more sex dreams than those in Missouri.
Less sex-focused in the South, more stressed in the North: The data further revealed that residents in Florida reported 20% less sex dreams than those in New York. On the other hand, New Yorkers were most likely to dream of losing teeth – with more of these dreams reported than any other location surveyed (6.7% compared to a national average of 4.7%). Unsurprisingly, as these dreams indicate stress in waking life and can elicit negative emotions, New York was recently named the unhappiest city in the country according to a recent U.S. National Bureau of Economic Research study.
American DreamsCloud Index Power Rankings - Top 10 Most Sexual States in America (According to Dreams):
1. Indiana (14%)
2. Michigan (11%)
3. New York (10.5%)
4. Louisiana (10.1%)
5. Florida (8.6%)
6. Texas (7.5%)
7. Pennsylvania (7.4%)
8. New Jersey (7.4%) .
9. Ohio (7.3%)
10. Tennessee (6.4%)
"When it comes to what we're dreaming about, dreams often can't be taken literally," said Emden. "For instance, dreams about babies and even sex may mean different things to different people based on their backgrounds and personal experience. The only way to really understand your dreams is to better track, analyze, safe-keep and socialize each dream, identifying common patterns and using today's resources designed to aid in the self-reflection process. These help users discover patterns and receive insights that can impact how we carry ourselves in our waking lives – and ultimately, better our overall wellness."
About the "2014 American DreamsCloud Index" (Methodology)
DreamsCloud analyzed dream content on its platform from January 1 to July 31, 2014 to uncover the dreams of a representative sample of 111,327 U.S. adults.
About DreamsCloud
DreamsCloud is the world's leading online dream resource, with an interactive database of more than 1.7 million dreams. Offering a 360-degree approach to dreaming – including a real-time global dream map, dream journaling/sharing tools and the largest group of professional dream reflectors – DreamsCloud empowers users to better understand their dreams and improve their waking lives.
DreamsCloud's passion, commitment and innovation in the dreams space is best embodied by the company's panel of Dream Reflectors who provide personalized insight to DreamsCloud users. Leveraging their deep expertise in dreams study, Dream Reflectors help users self-reflect on their dreams and their lives.
Users can participate in the DreamsCloud community privately and securely online at http://www.dreamscloud.com or by using the DreamSphere mobile app. Founded in 2010, DreamsCloud is headquartered in Sterling, VA. Follow us on Twitter at @Dreams_Cloud.
Media Contact:
Dana Sciandra, Director of Marketing
dana(at)dreamscloud(dot)com
571-306-3449