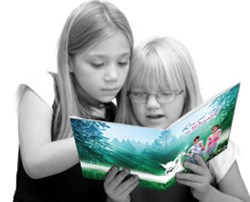 Seeing your child's reaction on their face when they see themselves in their very own book is priceless.
Monroe, NY (PRWEB) October 01, 2013
The Dreamland Photo Personalized Book is one of the best high quality, ultimate personalized children's books on the market because it features two children and their photos on the cover and throughout the story," says Kim Delgado spokesperson of Personalized Children's Books and Gifts by KD Novelties.
Dreamland contains high digital quality illustrations that will be sure to captivate children. It's perfect for two sisters, best friends, cousins or even twins. It takes both girls on a fantasy adventure where they become princesses' for the day while making their dreams come true. Every little girl dreams to become a princess and now they can experience this with a friend or sister.
KD Novelties addresses the need of many customer requests of being able to produce a personalized children's book with the child's photo and a book that can be suited for twins. "This book was designed with that in mind and to help young girls build self-esteem and self-image. It will also help children not only read but see themselves in what they read, which will motivate children to be enthusiastic readers," says Kim Delgado.
KD Novelties truly believes in making reading fun, assuring that the Dreamland personalized photo book will provide hours of reading entertainment and enjoyment. "Seeing your child's reaction on their face when they see themselves in their very own book is priceless," notes Kim.
The Dreamland personalized book is a perfect gift for the little princesses' in your life and can be given for any occasion. Even though Dreamland aims to promote reading and boost self-esteem in young girls, it also has a third valuable side to it. When the kids have outgrown it, the personalized children's books become an invaluable and priceless keepsake.
Ordering the Dreamland personalized children's book is easy as 1-2-3 the customer fills out the personalized form and uploads the picture of the two girls and that's it! A virtual tour of the book is provided where customers can read the story for themselves and view the vivid illustrations.
KD Novelties has been in business for 13 years and has been promoting literacy to kids of all ages. They are family owned and operated and have an A+ ranking from the Better Business Bureau. For further information about personalized books, music, and DVDs, and the tremendous benefits they hold for children's literacy, please contact us or visit the KD Novelties website.