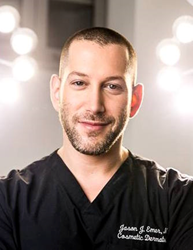 Beverly Hills, CA (PRWEB) January 26, 2017
Dr. Jason Emer, renowned cosmetic dermatologist and hi-definition liposculpture surgeon, will be lecturing at the IMCAS Annual World Congress Conference in Paris, France, on January 26th through the 28th. The Conference is one of the largest aesthetic multi-specialty conferences in the world.
Dr. Emer, a world famous body contouring and liposculpture expert, brought his innovative and bold techniques to Beverly Hills, California, in 2015. Since then, patients from all over the world come to see him for his expertise in "hi-def physique," a surgical technique which combines liposculpture, fat transfer, skin tightening, and cellulite reduction to create a sculpted and athletic body. During the conference, Dr. Emer will present lectures on hi-definition liposculpture, laser skin resurfacing and platelet rich plasma (PRP), cosmetic procedures in men, and the use of social media for medical marketing and advertising.
His techniques for body shaping have created a social media frenzy, with thousands of followers on Instagram, Facebook, Snapchat, and Twitter. Dr. Emer's enormous popularity and expert skill with facial fillers, laser treatments, and body shaping have made him an in-demand speaker for cosmetic conferences all over the world. His unique approach to facial and body aging involves using combination treatments to get enhanced results for the best outcomes.
Dr. Emer's new state-of-the-art office in Beverly Hills opens this month, featuring the latest laser technologies, advanced skin care products, and a body contouring center with liposculpture and surgical techniques that produce full body transformations. He also offers general dermatology, skin cancer treatment, CoolSculpting, tattoo removal, hair removal, and full-service plastic surgery.
Watch Dr. Emer on Facebook @JasonEmerMD, Snapchat @JasonEmerMD, Instagram @JasonEmerMD, and Twitter @JasonEmerMD, and also visit his website https://JasonEmerMD.com/ for more information on the most advanced treatments in cosmetic dermatology and body sculpting.
For Reviews: Realself.com & Yelp.com
Contact: Media(at)JasonEmerMD(dot)com
More Information on Dr. Jason Emer:
Dr. Jason Emer's main practice and passion are liposculpture and body sculpting/etching procedures. For obtaining the best results, with the least amount of downtime, and for patient safety reasons, all procedures are performed using a local fluid called "tumescent anesthesia," which allows for a comfortable surgery with little risks. Dr. Emer uses all of the advanced technologies for body contouring/etching to tailor his results to each person's concerns, no single device or type of liposuction is used.
Dr. Emer is a leading expert in cosmetic and laser dermatology utilizing the latest advancements in non-invasive treatments for aging. He utilizes combination treatments to get the ultimate results and customizes treatments to the patient's skin type and long-term goals. His interests include acne and traumatic scars, abnormal pigmentation, burns, and anti-aging/rejuvenation combination treatments. He personally treats all his patients to ensure the best results and doesn't delegate to other staff in most instances.
Jason Emer, MD
9735 Wilshire Boulevard, Penthouse & Suite 417
Beverly Hills, CA 90212
(424) 320-0813
info(at)jasonemermd(dot)com