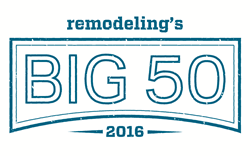 dRemodeling is the leading remodeling business in Philadelphia.
PHILADELPHIA, PENNSYLVANIA (PRWEB) May 07, 2016
Dan Dragomir, owner of dRemodeling, has been selected by REMODELING magazine to join the REMODELING Big50, a select group of remodeling business owners who are shining examples of leadership and work ethic in the field. "This distinction marks a great year for our company," says Mr. Dragomir, "and is a welcome validation for our innovative business model."
dRemodeling is the leading remodeling business in Philadelphia, serving the city and its surrounding areas for 8 years. During this time, it has become the highest rated Kitchen & Bathroom Design and Build company in the greater Philadelphia region, with hundreds of renovations under its belt and multiple awards won. The company has grown by leaps and bounds, and is now a million-dollar-plus going concern that's only set to thrive further on the back of the Big50 award.
The Big50 Class of 2016 features owners of remodeling companies that have set exceptionally high standards for professionalism and integrity through exemplary business practices, craftsmanship, and impact in their community or the industry at large. Big50 remodelers run successful, often growing, companies of various sizes that have taken the lead in raising industry standards.
This win, being recognized among the 50 best remodeling companies in the country and among only 79 Pennsylvania remodelers awarded the distinction since 1986, is humbling and also incentivizing for dRemodeling's founder. It confirms that the track chosen by Mr. Dragomir is indeed the right approach moving forward. As REMODELING magazine points out, the Big50 winners which they've chosen every year since 1986 "embody some of the most innovative strategies to survive – and flourish – in a changing market."
The Big50 selection process has become increasingly rigorous in recent years, and the result, REMODELING editors believe, is one of the strongest classes to date. "Uniting the 2016 inductees are high standards and a determination to excel — taking the opportunity to build efficiencies into their systems and processes— ensuring that they are poised to meet their sales, production, and customer-service goals and continue to thrive," according to REMODELING.
Dan Dragomir, speaking to REMODELING magazine, explains that he credits much of his success to working without subcontractors, which makes it easier "to control the quality of the work. If you give someone an opportunity to cheat and cut corners, they're going to," he adds. Additionally, he boasts of a tight-knit team of four, three talented designers and a project manager, who are rewarded for getting the job done with professionalism and respecting clients' wishes and deadlines. Their exceptional focus ensures that no detail, however small, falls through the cracks and, with Mr. Dragomir at the helm, overseeing every aspect of dRemodeling projects, dRemodeling is well on its way to becoming the go-to remodeling business in Philadelphia.
The Big50 awards will be presented at a gala dinner at the Remodelers Summit and Awards Gala on Oct 25-27 in Kansas City, Mo. The 2016 Big50 winners are featured in the May issue of REMODELING, a national trade publication read by more than 130,000 professional remodeling contractors, with longer profiles of the winners posted on the REMODELING website, remodelingmag.com.