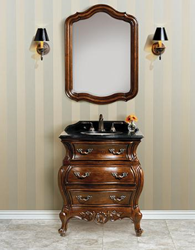 Dresser style bathroom vanities deftly replace large, disorganized storage cabinets with two, three, or more usable, accessible drawers.
(PRWEB) October 22, 2013
HomeThangs.com – the Online Home Improvement Store, has made their goal to deliver the right product to the consumer. With that in mind, shopping and home design tips, as well as special product selections are being introduced.
It can be a little difficult to find antique style bathroom vanities that have good, usable storage options. Drawers tend not to mesh well with a conventional small cabinet, and many designers overlook even including shelves inside. But HomeThangs.com has introduced a guide to one of the big exceptions to this unwritten rule: antique vanities that are designed to look like a chest of drawers, dresser, or bombe chest.
The swap here is both simple and ingenious. Most antique vanities are comprised of a single large cabinet with a counter and sink on top, which leaves little or no room for small item storage. But trading that large, open cabinet for a dresser style design offers the best of both worlds. On the one hand, these antique-inspired pieces are both ornate and elegant, with beautiful carved details and luxurious wood finishes. On the other, they deftly replace a large, disorganized cabinet with two, three, or more usable, accessible drawers.
The ideal size and number of drawers will depend a little from one person to another. Small drawers are ideal for organizing small items – makeup, cotton swabs, razors, hand towels or washcloths – while larger drawers are better for things like hair driers, hair spray, toilet paper, or full sized towels. Occasionally dresser style bathroom vanities have a few of both, but most models will only have drawers in a single size.
Dresser style bathroom vanities come in a variety of shapes and sizes. Ones inspired by French Bombe chests are svelte and petite, with a narrow, curvy build and small footprint. These tend to be among the smallest of any type of antique bathroom vanity. But there are vanities modeled after much larger, heftier dressers, too. These are typically wider and more rectangular in design, with usually three very large, very wide rectangular drawers, just like an actual dresser. Which style is more desirable depends not only on the different types of storage they offer, but also their overall aesthetic, since bombe chests have a very sleek, feminine appearance while heftier models are much more masculine.
For a dresser style vanity that still has some storage space, look for models that are slightly rounded to sneak in some small cabinet space on either side of the main drawers. These are often camouflaged as simple panels with just a small knob or pull on a curved door that opens up to a wedge-shaped cabinet, sometimes with a shelf in the middle. The smaller size makes it easier to keep the items inside visible and organized. And with one on either side of the vanity, it offers just enough space for storing those larger items – like a stack of TP, soap refill bottle, or cleaning products – that won't fit with personal items in the main drawers.
It's worth noting that not all dresser style vanities actually have drawers – very often, traditional vanities are designed with a front face that looks like drawers, but opens up into a large cabinet without a single drawer in sight. The difference isn't always obvious at a cursory inspection, so be sure to double check. At the very least, most antique vanities will have at least one false drawer directly beneath the counter (to accommodate the sink and plumbing), so it's incredibly important to take stock of the number, size, and location of the functioning (and faux) drawers on any antique bathroom vanity.
To see more of these gorgeous dresser style vanities, check out the full article here.
HomeThangs.com is not only a home improvement superstore, it also provides expert design tips and a comprehensive shopping guide, taking the ideas from professional interior designers, and offering tips to the consumers on how to pick the products to best suit their needs.