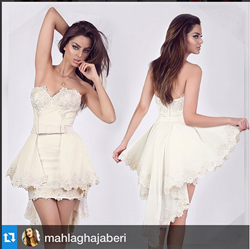 Los Angeles, California (PRWEB) September 30, 2015
Paris Dress, the world's leading online fashion site, has announced the arrival of its new fall lines. The introduction of high quality designer dresses to the existing collection heralds a joyous time for fashionistas as the new arrivals will be on sale just in time for homecoming and fall formal events.
Fall formal and homecoming are hailed as the most exciting dances of the year and high schoolers and alumni alike will be doing all they can to look their very best. Now, shoppers get the chance to browse through and select one of many designer dresses available on Paris Dress (http://www.parisdress.com). With formal dresses from topnotch designers such as Tony Bowls, Tarik Ediz, Mac Duggal and Rachel Allan up for grabs, shopping for the perfect homecoming and fall formal dress just got more fabulous.
According to a spokesperson for Paris Dress, "Our fall line features the brilliance of our talented designers and collaborates everything that we know and love about fashion. Everything offered online is perfect for fall formals and homecoming events taking place all over the country."
Shopping for designer labels is no longer a stressful affair. Paris Dress offers outfits from numerous renowned designers. From the much talked about Tony Bowls Evening collection to the highly regarded Tarik Ediz Fall-Winter 2015 line, every dress sold through Paris Dress boasts ingenuity, class and elegance.
Expedited shipping is also available and is determined by the distance from Paris Dress' warehouse in Los Angeles. To calculate the cost of express shipping, shoppers simply have to click on the 'Calculate Shipping' link above the selected dress and enter the delivery address' zip code. The total shipping fee will then be displayed at checkout. From next-day delivery to Saturday delivery, shoppers now have the power to decide exactly when they want their designer dresses to arrive at their doorstep.
From evening gowns, homecoming dresses, fall formal dresses to contemporary dresses, nothing is lacking when it comes to the array of fashionable designer dresses available for the taking on Paris Dress. No other site is able to offer shoppers the fine balance between style, practicality and affordability the way Paris Dress does. Ranging from $300 and up, the designer dresses available on the site feature everything from sequined mermaid dresses to cocktail dresses with thigh high slits. Not only will shoppers be spoilt for choice, they will also appreciate the fact that their outfits look like they came straight off the haute couture runways of Paris and Milan.
For more information on Paris Dress' new fall lines or to sign up for the site's newsletter, head to http://www.parisdress.com or call (855) 804-0515 today.