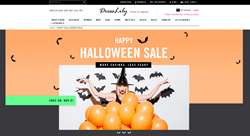 With Halloween around the corner DressLily looks to join the spirit with a new design and sales.
Shenzhen, China (PRWEB) October 12, 2016
DressLily is constantly working diligently to improve the customer experience. This has made DressLily one of the most respected fashion e-commerce sites today. The company has been able to grow a large fan base largely to its unique sales model. DressLily works directly with manufacturers to secure the cheapest manufacturing prices while keeping product standards at or above industry standards. The sales are then passed on to the customers and the products received often get raving reviews. Customers then tell their friends and even more people fall in love with DressLily. Today the company is proud to announce that will optimizing the website come October 10th 2016 and the new site will be themed around the Halloween season. Customers should be excited because the changes will make the site easier to use and provide even greater discounts.
Customers who do not have time to research the latest fashions often use the new arrival recommendations and hot item recommendations sections of DressLily. Here DressLily staff organize the best new and hot products. In the past the company has only allowed for 5 products in each section, however customers have asked for more variety. Today the company is proud to say it's here. Engineers have updated both sections to hold up to 20 recommendations, giving customers more choice!
The search bar has been updated to be "smarter" now when customers begin typing words the site will give suggestions on what they might be looking for. This saves time typing and lets customers find the products they want much faster.
To get into the halloween spirit DressLily will be adding Halloween theme icons and "pop ups." Small ghosts will be arriving on the DressLily page starting October 10th 2016, customers who find these pop-up ghosts and click on them will be given a surprise gift! DressLily has hinted that these will lead to great savings.
Finally DressLily is celebrating Halloween with free gifts to shoppers. When customers spend $20, $30, or $50 they will receive a coupon for 8%, 10%, or 15% respectively. This incentive to shop will be live until November 1st 2016.
Customers who enjoy DressLily are invited to try sister sites Trendsgal and Nastydress, both sites offer trendy fashion in their own respective niche. These sites like DressLily are affordable, fashionable, current, and sell high quality fashions.
Related link: http://www.dresslily.com/
Email: support(at)dresslily.com