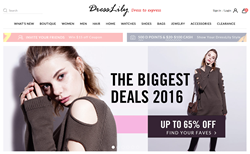 Company continues to add transparency about all products listed
(PRWEB) November 08, 2016
Fashion experts agree DressLily is one of the hottest fashion e-commerce sites on the planet. DressLily integrates the latest in fashions and accessories from around the world in its extensive shopping catalog, making it a breeding ground for diversity and unique looks. Customers shop at DressLily due to the company's commitment to affordable pricing and high quality control standards. No matter what a customer pays for a product they are receiving products that go through multiple levels of quality control checks. DressLily is committed to being transparent about all products sold. There will never be a time where customers are intentionally misled into buying something. To create more transparency about products being sold, DressLily is now including model stats. Customers can use the model stat to get a better idea of how a product may look on them.
Shoppers of all shapes and sizes shop at DressLily and the company is always looking to represent them when posting product images. The company already is an industry leader in posting true authentic images, and now customers can know the sizes of the models who show off the products. Model stats are located at the bottom of all product pages. These stats include height, bust, waist, hip, and shoulder size. These stats can be used in helping others pick the right product size for them. Customers can compare how the model looks in the size that they are wearing to how the same product may look on them. This will be in conjunction with the size chart already provided by DressLily.
Model images are 100% authentic and done directly by DressLily to make sure real product images are released. The company is committed to making sure customers know exactly what they are buying. Product images are never altered or manipulated, what the customer sees is what they will get. DressLily is committed to being an industry leader in customer satisfaction and hopes that transparency is appreciated by its customers.
Customers are now invited to come and check out the new model stats function at any product page on the DressLily site. All new inventories added will have model pictures attached with them. Customers who cannot find what they want on DressLily are recommended to try sister sites Nastydress and Trendsgal, both offer an array of unique fashion products that may not be found on DressLily.
Related link: http://www.DressLily.com/
Email:support(at)dresslily(dot)com