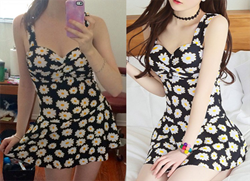 Customers now able to show off their DressLily products to the world.
Shenzhen China (PRWEB) August 15, 2016
Launched in 2011, DressLily has been a leading international e-commerce fashion and clothing accessories store. The company has prided itself in selling high quality fashion at affordable prices. This recipe has resulted in DressLily growing to be a fan favorite to customers around the world. Often times new customers can be curious if the prices really meet the quality of the product and DressLily would like to put this to rest. Today, company executives announced the launch of the Buyer's Show Program. This new program will let real customers show off the products they purchase.
Perception of products is extremely important at DressLily. The company already uses a professional photography team to take pictures of products to get the true essence of it. Sometimes customers can still feel that that professional images make the products look too good. To mediate this situation, the company has launched the Buyer's Show Program. Customers who buy DressLily products are encouraged to post pictures of themselves wearing DressLily products. Images will then be shared on the DressLily website, right on the products page. This ensures that customers can see what the products look like on other real people. No tricks, editing, etc. All products shown will be genuine customer postings.
The Buyer's Show Program will also throw incentives at customers who post their images on DressLily. Customers will be given points for each picture posted. Points can then be used to get discounts on further purchases. This point system will give customers reason to both keep shopping but help DressLily catalogue the entire site with real user submission. No more guessing if the products truly look like what is posted.
Customers who have any questions or concerns when shopping can contact the DressLily customer support. The staff constantly goes through rigorous retraining to make sure problems are addressed with full satisfaction. The customer service department is open 24 hours a day, 7 days a week and will be happy to discuss any questions, concerns, or even initiate the return/exchange procedure if customers are not fully satisfied with a product. DressLily is fully committed in winning customers over by providing impeccable service both before and after sale. The company will not rest in providing service until customers are fully happy.
If you would like to know more about similar programs, please visit NastyDress and Trendsgal.
Related link: http://www.dresslily.com/
Email: support(at)dresslily(dot)com