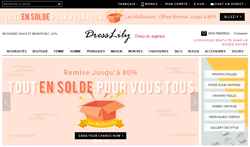 Company looking to add more languages to better serve customers from around the world.
Shenzhen, China (PRWEB) September 14, 2016
When it comes to dress fashion DressLily is the number one fashion e-commerce site. Like its sister sites Twinkledeals and Nastydress, DressLily has built up a huge customer base thanks to its own industry leading sales method. The site offers the latest fashions at affordable prices while keeping the quality high. This allows for customers from around the world to get the latest fashions without having to break their wallets. Today DressLily looks to make history by adding more language support. With more people from non-English speaking countries buying DressLily products it has become crucial to the company to get all major languages supported. On September 14th DressLily launched the first of its new language sites, this one being in the French language.
French people often take high regard to fashion and a large portion of DressLily's customers are from French speaking countries. To better serve these users DressLily has launched a new French website. Native French speakers were hired to translate the entire website, creating a seamless experience for French users. Customers will no longer have to try to translate English themselves through services like Google translate and can buy products right away.
The new French language option launched on September 14th, with any new service there may be small bugs or errors. DressLily prides itself on having a well-run and understandable website. In the event that customers find or suspect an error they may contact DressLily. If the error checks out to be correct, it will be fixed immediately. Customers with concerns about the French language site can contact DressLily directly though the "Contact Us" page on the bottom of the DressLily website.
The new French website runs exactly the same as the English website and offers the same great products and services. Customers who use the new French language option will be subjected to exclusive special offers. This could be exclusive sales, flash deals, and even reward points. The special deals can happen at any time and customers will not always be given a warning in advance so they should check back daily to see if any special deals are happening at the French language website.
Related link: http://www.dresslily.com/
Email: support(at)dresslily(dot)com