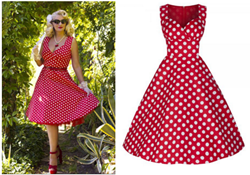 Company Looks to Improve Customer Satisfaction Rates With New Control Measures.
Shenzhen China (PRWEB) August 23, 2016
DressLily is a fashion e-commerce giant that is world renowned for its cheap products that are of incredible quality, however sometimes customers can have problems. Some customers may have a hard time getting high demand products. With such low prices products can sell out quickly and this can lead to orders shipping out late. To mediate this issue, DressLily is launching new quality control measures. Customers will now have more options to get products faster and not be left disappointed.
To mediate sell outs and then log waiting for restocks to ship, DressLily has created an alternate product program. If a product is running low and it looks like shipout time may be delayed the company will send consumers links to similar products. Customers can then decide to swap the old product for something more in stock. This will boost the shipping time and products will be similar. In the event a customer does not like the new product they may return or exchange it it, however DressLily is doing their best to do quality control on all new products.
Going forward all products looking to be shipped out will go through extensive quality control checks. This means that products will be compared to the original submissions from the manufacturer, craftsmanship tests, and be given an overall quality score. In the event a product does not meet standards it will not be sent and a customer will have the option to order another product or get a refund. Customers can also get a sense of the product quality by viewing the product page. Many reviews have pictures attached and customers can use these to compare stock image quality to the product they will receive. DressLily Customer service and editorial staff will be happy to go through sizing with customers before orders to make sure all products shipped are the right size.
Customers who like DressLily should check out sister sites NastyDress and Trendsgal. NastyDress offers the latest in sexy women's fashion, so customers can bring out their more erotic side when shopping at NastyDres. Trendsgal offers trendy clothing at wholesale prices, allowing customers to save even more money. Both sites offer something new and unique from DressLily!
Related link: http://www.dresslily.com/
Email: support(at)dresslily(dot)com