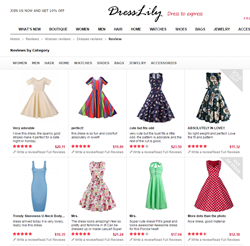 All Products to now have real photos and reviews on its product page
Shenzhen, China (PRWEB) September 20, 2016
Styles and fashions are always changing but one thing that will stay constantly in is dresses. Dresses have stuck through generations as being an iconic fashion choice for women. DressLily launched to bring the latest dress fashions to everyday people at affordable prices. DressLily has grown a huge customer base over the years partly because of their customer centric approach. Customer feedback is therefore the top priority of the company. Today DressLily is proud to announce real photos and product reviews have been added to the product pages. Customers have stated to the company that flipping between pages to see reviews and pictures is too much. This new approach will keep things organized and let customers shop easier.
DressLily executives understand that customers are not able to see products like they could in a physical store, the company is constantly thinking up different methods to give customers confidence to give products a chance. Today DressLily is pleased to announce the launch of a new review and picture page. At the bottom of the DressLily website is a tab called "DressLily" reviews, this section will take customers to a list of products that have been reviewed. Customers can click the products to see the reviews and real pictures. Customers can use these to get a sense about the authenticity of the product and if it meets their own standards. Customers can also see the reviews and photos of each product by shopping as they normally would; the customer will simply need to view the product page of their choosing.
DressLily is serious about showing authentic pictures. The company is in a transition stage where all current photos are being retaken if they are not already taken by DressLily. This ensures that customers see what the actual product looks like without any modifications of the images by a third party source. DressLily uses industry leading photographers and cameras to bring out the real life look of the product. All products are also checked by staff before shipping out to make sure they look as described and have no defects. This all should give customers strong belief that the products they receive will be as described.
To add an extra layer of security, customers can also see what other customers are saying via product reviews. Customers are not filtered and real life experiences will be noted on the product review page. If many customers complain about the same issue DressLily will use this as an indication to remove the product as well.
Customers looking for the same standards seen at DressLily are invited to try the company's sister sites Nastydress and Twinkledeals which offer erotic products and accessories respectively.
Related link: http://www.dresslily.com/
Email: support(at)dresslily(dot)com