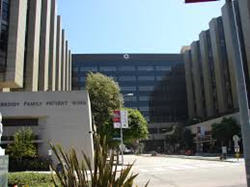 Fortunately, going to one of these hospitals is not the only options Angelinos have for health care.
Los Angeles, CA (PRWEB) June 15, 2015
While many Southern California residents like to brag about the quality of their hospitals compared to other major cities, recent ratings released by Medicare's Hospital Compare system reveals that there is plenty of room for improvement in many of Los Angeles healthcare providers. The system, whose ratings are generated by an array of patient survey data, ranks hospitals on a scale from 1 to 5 stars. Yet, according to a U.S. News and World Report analysis of the data published on April 17th of this year, no hospital in Los Angeles County received the full five stars, calling into question the true excellence of some of the city's most respected medical institutions. Fortunately, going to one of these hospitals is not the only options Angelinos have for health care. Although many people assume that house call medicine is a thing of the past, it is alive and well with Dr. Michael Farzam of House Call Doctor Los Angeles. According to Dr. Farzam, "there are numerous advantages of seeking medical care from a house call doctor rather than in a hospital." These include:

Personalized Appointments: "Often, when patients walk into a hospital or urgent care facility, the doctor is too concerned with their last appointment to take the time to examine and consider their current case before walking in the examination room," says Dr. Farzam. Instead of being frustrated while watching a doctor quickly try to get up to speed on their condition while glancing over their chart in front of them, patients can call House Call Doctor Los Angeles and know that the doctor is ready to treat them before walking in the door.
Care on the Patient's Schedule: Instead of waiting for hours in a stuffy waiting room, patients can get on with their busy schedule while waiting for the doctor to come to them. House Call Doctor Los Angeles is often used by busy professionals who can't afford to take the afternoon off work to travel to the hospital.
The Comforts of Home: Because being sick is already one of the most stressful things that a person can experience, having to spend time in a hospital can badly exacerbate that stress. That is why Dr. Farzam provides his services as a house call doctor for Los Angeles residents for anyone who is too sick or stressed to travel, or who simply wants the convenience of a home visit.
About Dr. Michael Farzam
All it takes is a look at Dr. Michael Farzam's testimonials given by his patients to know that his services are a top option for Los Angeles medical care. Anyone interested in scheduling an appointment for a check-up or for urgent care can call House Call Doctor Los Angeles at 310-849-7991, or visit them online at http://www.housecalldoctorla.com for more information.